Moderator
Local Search Expert
Joined

Jun 28, 2012
Messages

13,313
Reaction score

4,241
Local Google+ posts have been showing up in the Knowledge Graph for brand searches for awhile now. But I think many business owners and even consultants are not aware.
I was just talking to a bunch of Dentists about G+ and grabbed a screen shot to show them how if done right an eye-catching post could be showing up right in Google search, which could potentially mean an extra click and a new patient.
So wanted to show the great example I shared with them. (
Just a random Dentist
, no connection at all.)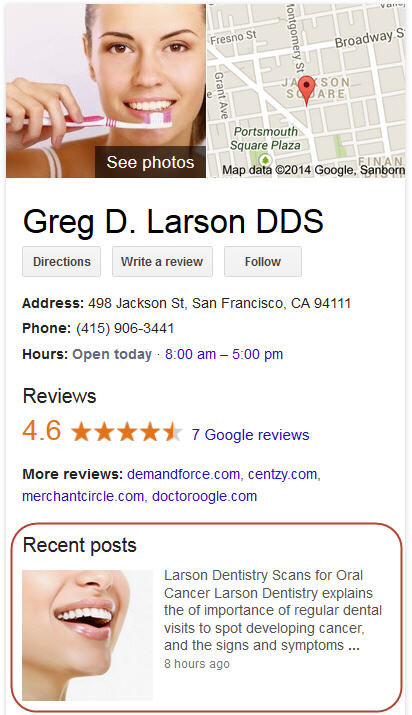 ​
NOTE: The posts only show with brand search right now and are not triggered by KW searches.
This issue came up at a
post at our forum
back in March. But I had been noticing posts showing up in the KP for a few months before that. Then Mike blogged about it when he saw the thread here.
One More Reason for an SMB to Engage with Google Plus
In Mike's post I think a couple folks were trying to figure out what triggered the posts showing up.
But I just spot checked numerous Dental and Chiro listings and all recent posts I found are showing up.
But whether an image shows or not depends on how the G+ post was created.
I am not going to pretend I've studied this in any great detail, but it looks to me like you need to directly embed an image in the post for the image to show in recent posts in the KP. So for example if you post a link to your blog, even though it shows an image from the blog post, that image won't show in KP.
Here's an example:
So the post above is the standard way you normally link to a post, with some commentary above the line, and the embedded post below.
But as you see in the Knowledge Graph above, the post does not really stand out at all without an image to draw attention to it.
So to get image to show, need to do it the way the Dentist in the top image did it.
So you need to add the image directly in the post, not add a blog link which embeds the image from the blog post. Then if need to add a link to the post as well, need to do it in the body as a raw link. The link won't stand out as well then. So need to decide, what's more important, the image to grab attention to begin with (on the post and in the KP) or having the post link with title embedded, which could increase click-through.
So like I said, recent posts have been showing up for awhile now and this is just one more example of how Google is surfacing and displaying more Google+ content. I wanted to post because I thought that Dentist's post was a great example and I had a little more detail to share about how to trigger the images in the post.