Moderator
Local Search Expert
Joined

Jun 28, 2012
Messages

13,313
Reaction score

4,148
In case you missed the news,
Google removed Search Location settings yesterday.
For the past couple months that setting has come and gone and moved around so we assumed they were either testing or a big change was rolling out. Yesterday it happened worldwide from what I'm reading.
So if you are a consultant in Dallas, how do you accurately check rankings for "Dentist" (without geo-modifier) for a client in New York? All you can do now is search for Dentist, which will show you Dentists in Dallas, not New York.
FYI there is much speculation about this. Some suggesting that Google did it to hide info from SEOs like they do with KW not provided. I don't think that at all. I really think this is practicality and not designed to block SEOs from info. 99.9% of the world are NOT SEOs or involved in local search. Regular people search for local services in their area. And Google has gotten really good at knowing where you are located. So I think that feature was used so little, Google decided it was no longer needed. But I know it's frustrating.
I used that feature 20 times a day!
HERE are some
SOLUTIONS/TOOLS/HACKS
that will help you search other locations to simulate the search results that show in that area.
The 1st one is a simple query hack.


It comes via Darren Shaw from Whitespark at the Local Search Pros G+ Community.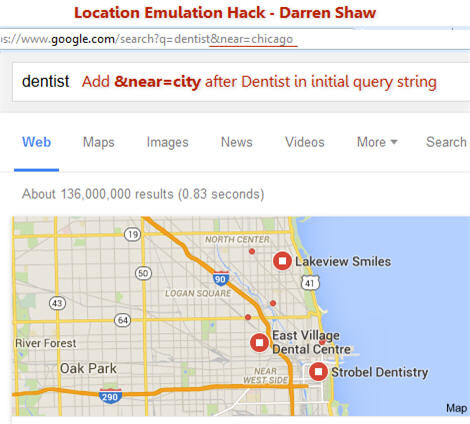 ​
I misunderstood and thought Darren was changing query to add "near city".
But he's appending that to the URL string, as I illustrated above.
Thanks for explaining Darren! That totally makes sense and works.
The rest of the suggestions come from the forum thread where we've been discussing this for the past month, since Google started playing with the dials.
<a href="http://www.localsearchforum.com/google-local-important/38249-heads-up-google-either-moving-removing-search-location-setting.html">Google Either Moving OR Removing Search Location Setting</a>
Mark from Places Scout (KabanaSoft) was the 1st to alert me yesterday. Then he posted that they were able to craft a work around for Scout.
As Linda noted, we observed that the ability to change the Google location setting using the Search Tools menu option in the SERPs was removed around 10:30AM PST today.

However, after several hours of investigation, debugging, and testing, we have devised a suitable workaround in Places Scout that will allow you to change the Google Location setting when running ranking and/or lead gen reports in Places Scout - we were able to get the desired location setting to display at the very bottom of the SERP page where Google is now reporting your current location for any specified location.

With this new method in place you can still check rankings for keywords that don't have the geo-modifier in the keyword and change the location setting to any desired location (works for international locations as well).

If anyone wants to give it a try you can signup for a free trial here:

https://web.placesscout.com/account/register

and let us know your thoughts after running some reports and reviewing the results.
FYI Darren from
WhiteSpark
and Myles from
BrightLocal
both said their rank trackers are working now too.
More solutions from the forum thread above...
I found another workaround that lets you set the location in Firefox using a browser extension called Location Guard.

Location Guard is designed as a privacy tool, but it also has an option to set a fixed location. Once you pick your location on a map, you can update your search location by clicking on the use precise location/update location link at the bottom of a google serp.
I have used this:

http://isearchfrom.com/

(Custom location, language, device & personalization Google Search tool to preview ads & results)

Also gives the option to choose devices. A lot quicker than using G-operators.
Thanks for all the tools suggestions to get around this problem guys.

Vick it appears that tool is simulating the Google Ad Preview tool, which I meant to re-test and mention last night. I assume it still works like before which was really good for location emulation. Didn't get around to testing but assume it still works.
Mike also posted about this yesterday and a rather complicated solution was mentioned there by Chris Koszo for using Chrome developer tools in Emulation mode: <a href="http://blumenthals.com/blog/2015/11/30/google-removes-the-location-setting/">Google Removes the Location Setting?</a>
So there you have it!
Pros to the rescue
with 9 tools/hacks to emulate location.