Joined

Mar 29, 2013
Messages

2
Reaction score

0
Hi everyone
I have really appreciated reading this forum as I set up a small yoga studio in London and learned how to optimise my Local page. Thank you very much!
I seem to be ensnared in a G+ local bug which is costing me hugely:
The Google suggested category for yoga places is "Yoga Studio". In my Google Places for Business page I have filled out the categories with custom categories so that all 5 categories are: Yoga studio, Yoga Class, Yoga classes, Yoga, Yoga studios. In my G+ page (they are merged) I cannot fill out custom categories so the only category is Yoga studio.
In Google maps, when you start to search for yoga, the anticipated suggestion is "yoga studios". Here's the bug: even when you're completely zoomed in to my precise location, my studio does not appear (not even as a small dot) in a search for "yoga studios".
Screenshot, search for "yoga studios"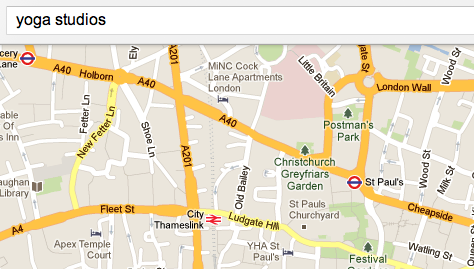 Remove the "s" in studio, and we appear (depending on the zoom, as a small dot or as a flag). In fact, for all other searches related to yoga, we appear (quite well thanks to the advice on this site
).
Screenshot, search for "yoga studio"
As I'm sure you can see, this is a problem because most people choose the Google anticipated search term
My studio is called Energy Yoga, 4 Foster Lane, London EC2V 6HH, UK.
Energy Yoga London - Yoga in the City of London
.
I hope someone here can help by suggesting how I can become visible to Google for their anticipated search term, "Yoga studios".
Thank you very much for you time.
Kind regards
Saro