Joined

Jul 25, 2012
Messages

129
Reaction score

25
Hi,
My client has been getting phone calls from customers off and on over the past couple of months mentioning that Google shows them as permanently closed. In our investigations, we had not been able to replicate the issue, so we instructed the client to ask their customers for more details as to when/where they saw the message.
My client was finally able to do a screen shot of the Google Maps listing on her cell phone and it was showing the message "Someone suggested this status
Permanently closed
" just above the address and hours lines.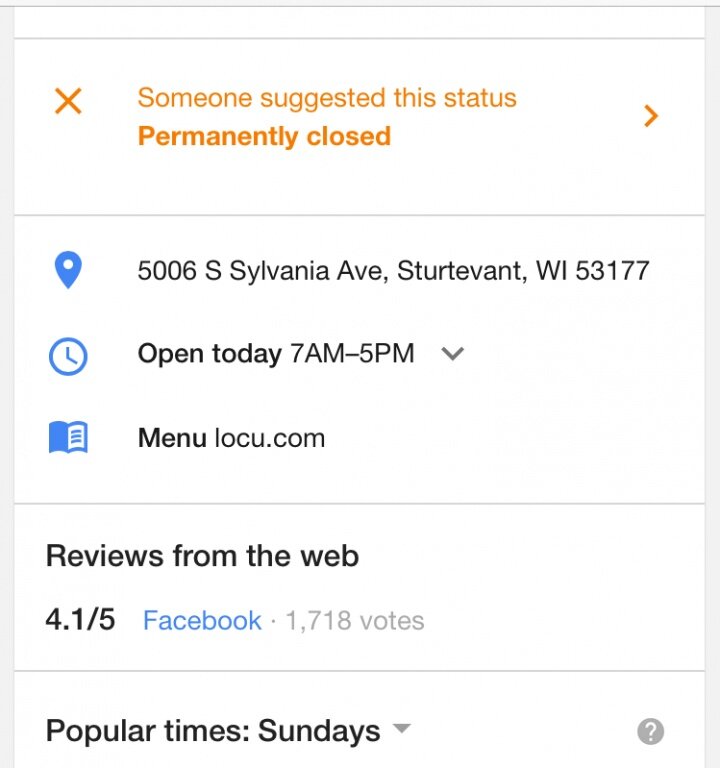 This suggested edit wasn't actually accepted by Google, but rather was displaying the warning. I checked in GMM and don't see any edits that would suggest anyone made attempts to edit the listing.
This issue coincides with the IYP listing cleanup work I have been performing over the last couple of months for this client. Is it possible that this 'closed' warning could be from Google themselves being confused due to the closure of various outdated/duplicate listings over the local listing ecosystem? (Or is this edit suggestion only displayed if a Maps user clicks the 'Place is permanently closed or doesn't exist' button?)
Sincerely,
Russ