Here is a short example about how to choose the best citation sources for your webpage, by running a
Local SEO Reverse Engineering Algorithm
.
I will identify citations sources for a "dental clinic" webpage. You can choose any other industry / keyword you like.
Very important! Do
NOT
include Location Name in the searches keyword ( do not use "dental clinic Dallas" ) , otherwise the Algorithm will not work, because you will get same results when searching from different locations.
Steps to follow:
1) Check which are the
TOP Ranking websites in the targeted Locations
( by changing Search Location on Google ) for the targeted Keyword.
It is very important to run the searches by
changing the location
, otherwise the results will be 100% wrong. Never search for keywords with location included as "Dental Clinic Miami" - you'll get nothing more than a public citations list known by anyone else.
Here are the screenshots on Dallas and San Francisco: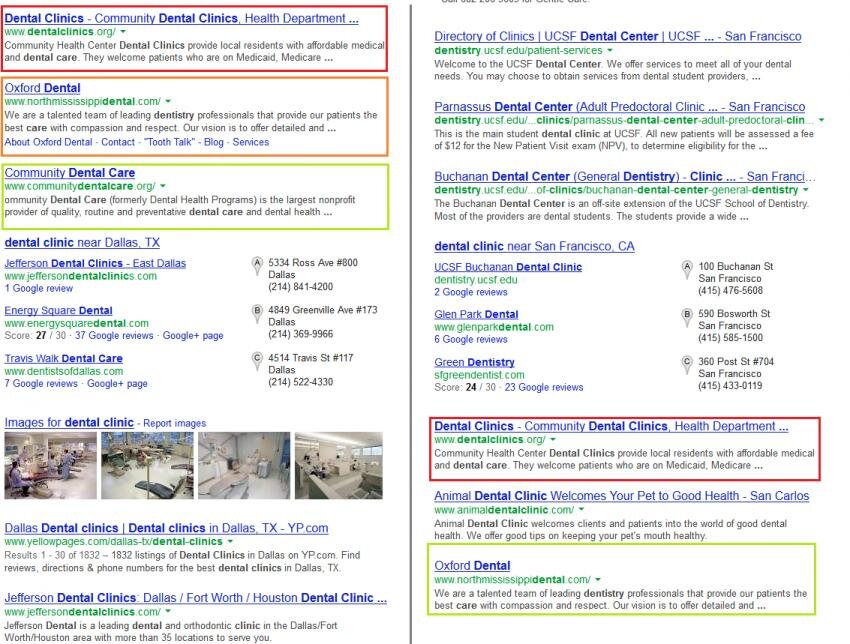 2)
Choose the websites which are ranking in one location only
, in order to be sure they are optimized for that location only.
I will start on Dallas with
communitydentalcare . org
as it is the first which ranks in Dallas only.
Identify all other websites in both locations which ranks Locally.
3)
Identify the NAP
for the TOP Ranking Local Webistes and Run the next
Google Custom Query
for each location and
check google TOP 100 results
:
"phone number" "address" -site:domainname.com
ex:
"(214) 630-7080" "1420 West Mockingbird Lane" Dallas -site:communitydentalcare.org
Identify the NAP and run the custom google query for all the other websites ranking locally.
The Result:
Best Location Sources for "Dental Clinic" for the targeted location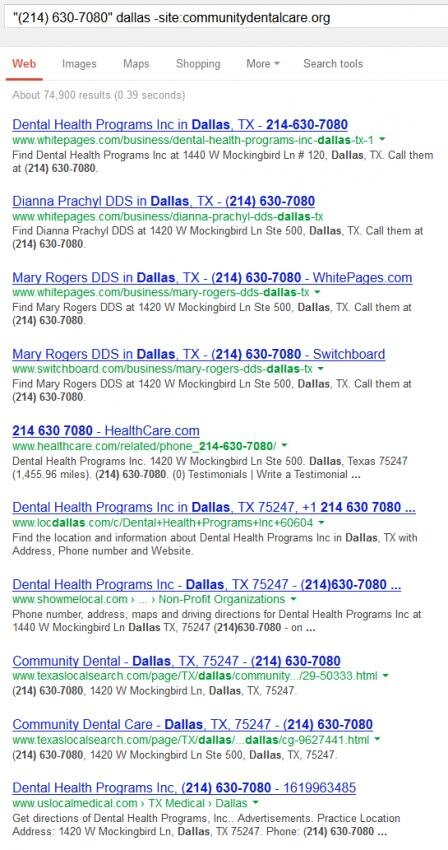 Repeat the process from time to time as New Citation Sources might win more Local SEO authority on the targeted Locations!
4) Use an XLS file and save citation sources in a
different column for each location
. (
Remove Duplicates
)
*note that the citation source list is much longer
You can easily compare the columns and see how different and the results between different locations.
TOP URLs are the MOST IMPORTANT ones on the targeted keywords and locations.
In the list are Citation Sources you have never heard of, some of them very important!
Oupss - Yelp com is on the last position in the citations list in San Francisco only ... so it is not so important as many of us were thinking. This is not what I am saying, but this is what Google Results shows.
Conclusion
:
There is
not such thing as Best Generic Citations Source List
.
Citation Sources are different based on Industry and Location
, so if you want to Rank on TOP Google results just repeat the algorithm for different keywords.
Generic Directories are not the only citation sources available! Try to identify Local Websites related to your industry in order to get high quality citations.
My Suggestion:
In Local SEO there is not a generic approach available for all industries and locations. Best is to learn from the TOP Ranking Webistes in the targeted locations by running
Local SEO Reverse Engineering Algorithms
.