Joined

Nov 15, 2021
Messages

5
Solutions

1
Reaction score

5
I'm running into an issue with the Suggested Updates repeatedly overriding my edits. This is for a client with about 30 locations, and they changed their hours last week for daylight savings. When I went in to GMB to edit those hours for the winter, Google crossed out those hours and reverted them back to their summer hours: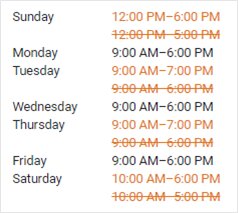 No matter how many times I edit these (with a bulk upload or manually), they'll be "Under review" for a few minutes before they get published with the suggested updates instead. I've tried discarding the updates from the Businesses page, to no avail. I contacted support and got this reply:
The hours are correct on each location's website, and I submitted those pages to be crawled in Search Console, on the off chance that that helps. We also use BrightLocal for citation creation, and I'm working on removing or updating the hours for each citation for each location (in progress, but I've finished about half of the locations). Nothing has changed. It's been a week since I first edited the hours, and about 4 days since I completed the citation edits for the first few locations (ongoing).
There have been a
couple
of
posts
about this in the last few years, but I was wondering if anyone had any new recommendations or ideas on how to address this issue. Thank you for any help or ideas you can offer!!