Joined

Oct 15, 2013
Messages

76
Reaction score

17
I did a thorough analysis of Google My Business Business.Site websites. Here's some of what I found:
- As of November 2017, Google is indexing over 900,000 Business.Site pages in their search index.
- Pages on Business.Site mainly rank for branded keywords.
Majestic is reporting over 1.7 million links to Business.Site pages, from over 14,000 domain names.
- Google is making a lot of money from paid search from businesses sending PPC traffic to their Business.Site web pages according to SEMrush.com
- Google Analytics is not available on Business.Site websites–so local business owners have no idea how much traffic their website gets.
- A large percentage of traffic to Business.Site pages come from Google's search engine. 70 percent of the traffic to Business.Site pages go right back to Google-owned websites.
Do Business.Site websites rank in Google? Well, no. They rank for branded phrases only.
Local businesses are spending over $100 per click to send traffic from Google AdWords to their Business.Site website, most likely using AdWords Express.
There's a lot more data that I've revealed in my case study. I've pulled data from SEMrush, Majestic, SERPstat, and SimilarWeb. What I find the most interesting, though, is that the traffic generally comes from Google-owned websites, and then goes right back to Google-owned properties. Only 30 percent of the visitors who visit a Business.Site website click to go somewhere else, other than Google.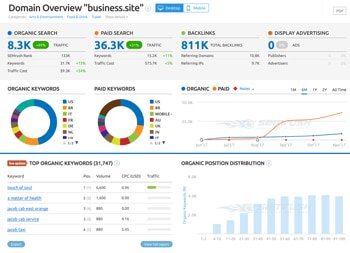 I've posted the full 49 page case study here, where you can download it:
Case Study: Google My Business Business.Site Websites
​
Last edited by a moderator: