Hi all,
Here's an idea for review diversification. This post was inspired by a comment from Joy,
tweeted by Carrie Hill
. "...stop regurgitating what you hear and start testing..." I haven't done the testing part but I haven't seen anyone write about this anywhere so I think it meets the "stop regurgitating" requirement. (This is where
@JoyHawkins
lets me know that it's in
The Guide
...)
There's value in understanding how I came across this idea: When I'm dealing with a new client in a new industry, and I need to find sites on which they should be collecting reviews, I look at their competitors. I search the competitor name, look at their knowledge panel and check out "Reviews from the web" to determine which review sites Google is looking at. This often reveals industry-specific and location-specific review sites.
I don't
know
that these review sites have an impact on rankings. However, based on the fact that Google shows them in the KP, I believe it's safe to state that Google sees those sites as being relevant to the industry and/or geography.
I noticed that if I searched <competitor name> or <competitor name>+<city> I would sometimes see different review sites in the KP. So, idea #1:
Search for <competitor name> and <competitor name>+<city> as well as <variations of competitor name> to uncover review sites that are relevant to an industry and/or geography in the KP.
Examples of variations: "Smith Law Firm" vs. "Smith Legal Firm". "Hotshot Coffee" vs. "Hotshot Cafe".
Which leads to idea #2: Search for <client name> and <client name>+<city> as well as <variations of client name> to uncover the review sites that Google sees as being relevant to your client.
Disclaimer: The company in the example below is NOT one of my clients.
Search for "Quantum Coffee" in Toronto and you'll find a strong rating of 4.5 / 5 from blogTO.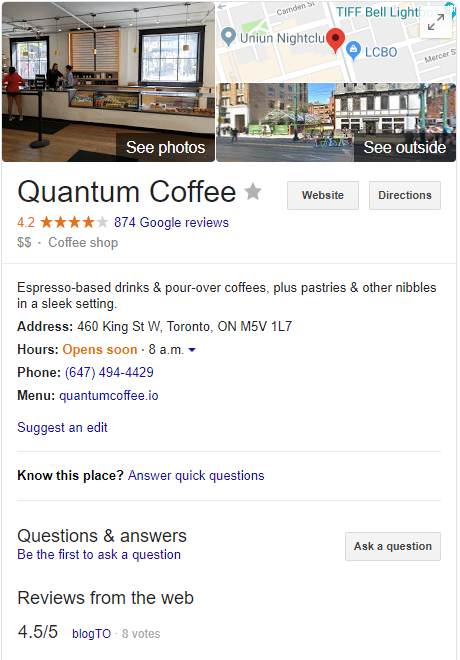 Note how the blogTO rating is 4.5 but the Google rating shown at the top of the KP is only 4.2.
Use a variant of their name, in this case, "Quantum Coffee Shop", and you'll find a weak Zomato rating of 3.4 / 5.
If this was my client I would encourage them to work on building positive reviews on Zomato.
Untested but, I believe, logical. Thoughts? Ideas for testing?
Last edited: