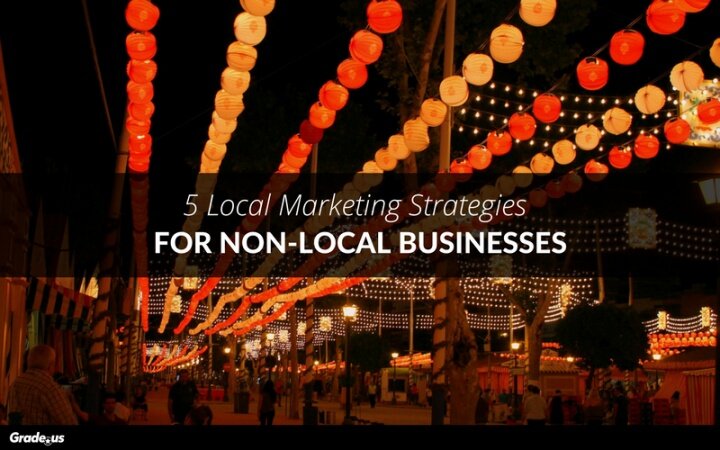 ​
5 Local Marketing Strategies for Non-Local Businesses Do you remember the shame?


The feeling of rejection inside you when others decide you're not good enough?It's something almost all of us go through. We all want to be part of the group.

We all want to fit in.



The ironic part is we've all rejected something – people, groups, experiences – you name it. Rejection is an inevitable part of life.




Customers reject businesses

---

They prefer to shop and buy from local businesses; they really don't want to work with you.

If you're an outsider that is.

When you're a non-local, you'll have to spend more money to attract the same customers a local business enjoys. What's worse, you start your relationship at a deficit.

When you're not local, customers…




Assume you're inferior. They believe local businesses do better quality work and offer better quality products.





Feel you're stealing from them. Local businesses pump money back into their communities. At some level, the quasi-subconscious perception is this: outsiders won't support their community.





Don't think they matter to you. When it comes to larger and non-local businesses, the perception is: "I'm just a number to you," which means they…





Won't get personalized service. Local businesses are all about relationships. They provide personalized services because they're a staple or part of the community.



But how do we know customers feel this way?

They tell us.

A recent survey from Yodle made some interesting points about what customers actually want and how they feel about local businesses.
Customers believe local is better

---

Whether it's true or not, customers believe local businesses are better than regional or national chains. It isn't simply a general feeling either. Customers believe local businesses…




Deliver better quality work

Offer better customer service

Offer more competitive pricing

Are better at personalizing service

Customers believe local is better.


In fact, customers felt local businesses were lacking in two major but difficult to fix areas.




Stability. Customers believed regional and national chains were more stable, offering shoppers more security.

Pricing. Customers felt national chains offered more competitive pricing which makes sense thanks to economies of scale.



These problems aren't easy to fix, but it can be done with the right approach. Most local businesses won't fix these problems.

Most simply don't know how.
Their weakness is your opening

---

When you use the right strategies, you're able to circumvent customer bias. When handled well, customers will welcome you past their filters and biases.

This strategy is centered around one simple concept.

Relationship.

It doesn't matter whether your business consists of two locations or two hundred. When it comes to winning local business, elite marketers understand that relationship with influential locals is a key driver.
Relationships, in this context, consist of a few key ingredients.

1. Trust. Reviews are the best way to establish trust quickly. Customers want to verify you're trustworthy and willing to do right by them. Do you deliver as promised? Are you consistent and reliable? Will you tell the truth even when it hurts?

2. Honor. Works like money. The more you have the more value you're able to attract. Here's the tricky part, most of the people in these locales expect you to use your honor in selfless ways. They want you to use your honor to make things in the community better.

3. Selflessness. One hand washes the other. You're able to give, to serve without expectation. Approach influentials in your locale with the intention of extracting favors and they'll respond in-kind, shutting your business out.

4. Respect. The locale you're targeting has its own set of rules, customs, cultures and norms. Learning how to speak the lingo, observe important customs and uphold norms is a crucial part of fitting in.

At first glance these don't seem like strategies. But savvy customers look for these details. Want to attract more local business? This is the foundation you'll need to make that happen.
Your foundation needs locals to survive

---

You won't have your own "street cred" to start, so you'll need to rely on locals in your target community.

You'll need to focus your attention on the right places.

Remember this isn't about manipulation. It's about building relationships; these relationships create the opportunities you need to serve locals.

Locals are quick to turn their backs on those who forget.

So.

What are some strategies you can use to compete with the local guys?

Read the rest of Andrew's post here, where he delves into 5 different strategies that non-local businesses can use to outshine the local competition.

What are some of the strategies you've used with your larger enterprise (non-local) clients to stand out in the local marketing world?