7 Local Search Conferences Worth Attending Before the End of 2017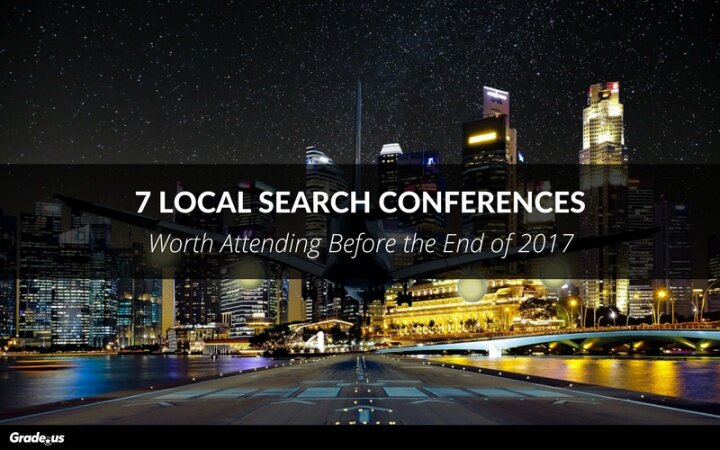 In the ever-changing world of marketing, one truth remains: knowledge is power.

It?s the reason you read articles on this site. The more you know, the stronger your local search strategies will become.

But there?s nothing like immersion to ensure that you actually consume the information presented to you. Taking a day or two away from all the stress of work and being surrounded by other like-minded individuals is a great way to guarantee that you?ll be ready to truly absorb what?s being presented to you.

The reality of these events is that no matter how much you think you know, marketing conferences are often a valuable reminder that you still have plenty to learn.

But marketing conferences are more than just a reminder to keep seeking information on this constantly evolving industry. Each one of these conferences promises to provide meaningful value to you by the time you step out of their auditoriums.

Your tactics and strategies will improve, with your overall knowledge of applicable local search information having grown noticeably by the time you head back home.

And let?s not forget about the massive networking component at play here. Aside from being a fantastic opportunity to find vendors for your agency, you?ll be exposed to a variety of opportunities for potential content collaborations.

This is the big leagues now. If you?re ready to take that next step, there?s still time before the end of 2017. Here are 7 of the best local search conferences that you should attend before the year is over.


Note:

Most of these conferences are still actively developing as we speak, so some may not have an agenda or list of key speakers officially listed. If it?s not on our list, that just means it?s not up on the official website.

Check out Brian's list, along with the specific details of each conference.

What are some of the local search conferences that you have attended and what value have you gained from them?

We had a great experience at SMX East last year!