Moderator
Local Search Expert
Joined

Jun 28, 2012
Messages

13,313
Reaction score

4,148
Lawyer SEO Marketing and the team behind it at Ethical SEO Consulting do some great posts.
Here is one by Matt Green I wanted to share.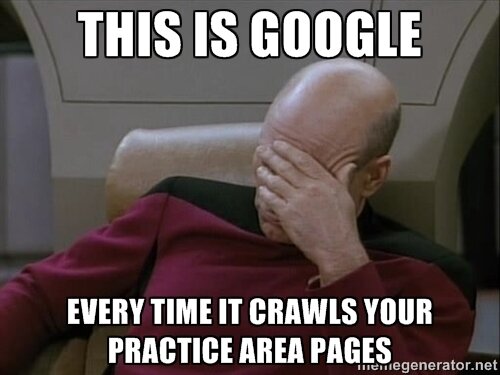 Image credit: Lawyer SEO Marketing - Link Below
​
<a href="http://www.lawyerseomarketing.org/organic-seo/tactics-better-practice-area-pages/">3 Tactics for Better Practice Area Pages</a>

(Just a snippet so click the link to read full post)

Every attorney in every city in the U.S. wants their website to rank high in Google for search queries containing [their practice area + their city/state]

What most don't want to do, however, is put in the effort to make sure that the content on their practice area pages is not only relevant and useful, but also unique from their competition.

There are only so many unique things you can say about auto accident cases or DUI defense for a given city. And guess what?

You are saying the same stuff as all of your competitors which means that your content isn't standing out, neither to your site's visitors nor to Google's crawlers.

Here are some simple ways to make your practice area pages better, in the eyes of both humans and Googlebot...
Read all the tips at the link above.
What do you think??? Do you have any tips to add?
<meta property="og:type" content="article"><meta property="og:title" content=""><meta property="og:description" content="There is only so much you can say about City + DUI and your competitors are all saying the same thing...">
<meta property="og:image" content="">