Moderator
Local Search Expert
Joined

Jun 28, 2012
Messages

13,313
Reaction score

4,148
Sometimes when your ranking drops or a client totally falls out of the pack, it's nothing you did wrong AND it's nothing competitors did right to leap frog you - it's simply that Google has changed the local algo and loosened the spam filters.
​
When this happens crap filters up to the top, that was previously filtered out and you or your client's listing gets knocked down or totally out of the pack.
About a month ago, lots of folks were complaining about a ranking shake up and new listings popping into the pack that were not previously there. I did a bunch of research and ranking analysis but just had not had time to post about it until now.
I think below is part of the reason for the shake up. Some of the spam filters were loosened.
This is why it's important to track the pack and really the entire page 1 SERPs - via screenshots or automated methods to understand shifts. I'll give you tool to help you do that at the bottom of this post.
But 1st, here's a great example.
One of the markets I track for algo changes is
Seattle Chiropractor
. Why, you ask? Because some of the Chiros there are super aggressive and I have seen some that use black hat tactics. So I know it's just a dog-eat-dog competitive market.
As soon as the complaints started coming in about the ranking shakeup (beginning or March or so I think it was), I checked Seattle Chiro and noticed that the pack had changed and lots of the regular players who are usually in the pack got knocked out. I dug in to see if there was an algo change and below is what I found. 1st a screenshot of the current pack.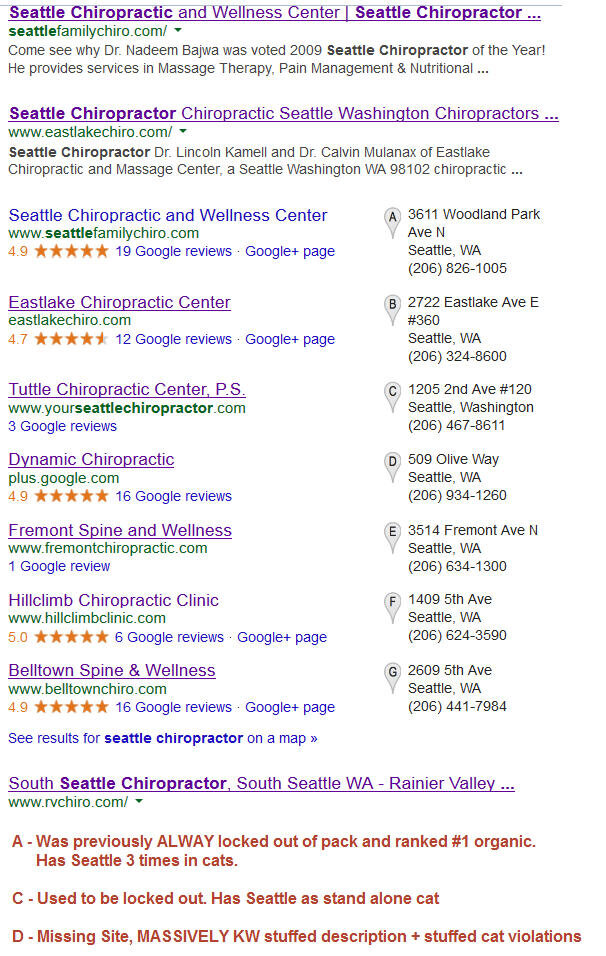 ​
A (seattlefamilychiro) used to always be #1 in organic but I'd never seen them in the pack before. I never checked to see why and assumed it was proximity or dupes.
So when they suddenly moved into the pack I checked them out and found this lovely G+ L description: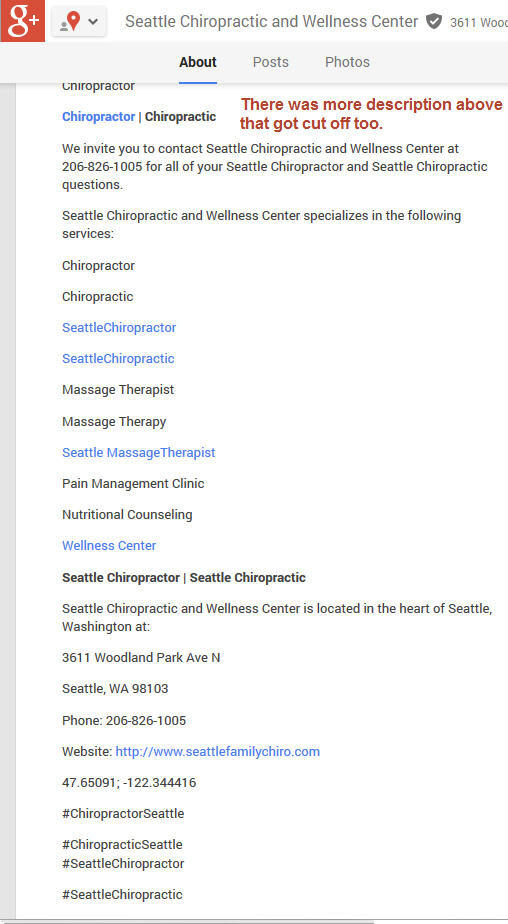 ​
Can you spell local description spam??? They also have city 3 times in cats, which is a violation.

In the past I've seen ranking penalties for excessive city and KW repetition. I guess that's not an issue any longer. I believe they used to be locked out of the pack even though they were #1 organic, because it's a spammy listing. But when the spam filters were tweaked, they were allowed to pop into the A spot.
C used to be locked out. Has the city Seattle as a stand-alone cat which is a violation.
D is missing the web site, has KW stuffed cats (a violation) and massively KW stuffed description as you can see below.
In the past, with the old 200 character Places description, all words capped like that and excessive KW repetition would not have flown.
The sad thing is that when the spam algo was relaxed and these 3 spammy listings were let in - 3 other, possibly good clean listings, were knocked out.
FYI
- If I had a client that was knocked out of the pack because spammy listings jumped in, I have no problem reporting or editing listings that have violations. I don't think of it as competitive sabotage, but an act to level the playing field and report those that are breaking the rules. However, as many of us know all too well, Google does not seem to be keeping up with or taking action on spam reports these days.
So this is why I say if at all possible you should track the entire page one SERPS and especially the pack, not just your clients rankings. Now I realize if you have 200 clients with 10 primary KWs each, that's a big challenge... but many of you only have 20 clients and if you track the pack for their core KW like chiropractor or Dentist, it's doable.
When consultants come to me for help diagnosing a rank drop it's tough if I can't see previous pack history.
Here is a tool that can help you automatically track the pack movement and history for clients.
TrackEngine
It emails me a snapshot of Google page 1 for Seattle Chiro every day including organic and pack. So then I can go back and look at the snapshot from 3 months ago or last week to see what has changed. It's free to try for like 5 or so then if you need to track up to 50, it's only 4.95 a month.
I just discovered a local rank tracking software program that says they do a screenshot of Google page one SERPS.
Local Rank Tracking | SERP Scan
. Don't know anything about the software or who owns it, just stumbled across it.
I'm going to ask Mark from
Places Scout
if he can add the screenshot feature too.
Do you know any other solution that will do automated tracking of page one SERPs by KW over time?

Have you seen some ranking shakeups? If so, check to see if some of the new players in the pack are spammy and let us know you are seeing something similar to what I shared above.