Joined

Jun 28, 2012
Messages

3,778
Solutions

3
Reaction score

1,877
I recently started a test drive of a neat WordPress widget plugin called the
Google Reviews Widget
by
RichPlugins
. I'm using the free version at the moment which you can
download from WordPress.org here
.
The plugin boasts the following features:
Display up to 5 Google business reviews per location
Keep all reviews in WordPress database
Shows real reviews from G+ users to increase user confidence
Easy search of place and instantly show reviews
Nofollow, target="_blank" links
Zero load time regardless of your site
Works even if Google is unavailable
The plugin does what it claims and creates a nice display in your sidebar of up to 5 reviews.
The current free version is a bit quirky. I hadn't really promoted my Google My Business page for this site other than registering some basic information (the cobbler's shoes phenomenon) so I only recently started supplying the Google Reviews link to clients). When I first installed it, there were only two reviews and the plugin grabbed and displayed those just fine in the sidebar.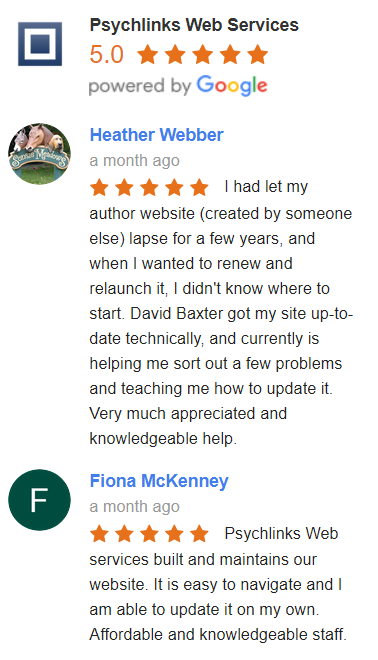 However, when a third review was added, the plugin didn't pick that up, even though obviously I was well within the 5 reviews limit. An email to the plugin support page was answered promptly on Monday morning, instructing me to add a sec0nd instance of the widget to force an update (see below) and then delete it once the reviews in the database were updated. This worked, although of course it would be a pain to have to do that repeatedly. I'm not certain whether the authors were suggesting this as a fix if the plugin gets stuck or whether this is a known bug that might get fixed in a future update.
According to their
support forum
,
Both plugins (free and paid) use the Google Places API to get your reviews. The API only returns the 5 most helpful reviews. When Google changes the 5 most helpful, the plugin will automatically add the new one to your database, thus slowly building up a database of reviews. Unfortunately, this is a limitation of Google Reviews, not the plugin specifically.
The paid version updates new reviews (only most helpful reviews and if Google changed it) automatically. To update rating and check new reviews for the free version you can use following
https://wordpress.org/support/topic/does-this-plugin-refresh-the-reviews/#post-10012495
.
​
Following that link yields this information:
Google allows you to get up to 5 reviews only, sorted by the most helpful.
This means that the plugin can't choose which reviews are pulled. The plugin gets 5 reviews only, those returned by Google without of control this process. If the plugin doesn't receive new reviews, it means that Google just doesn't return these.
You can try to update the reviews manually:
Add a new instance of the 'Google Reviews' widget to the sidebar;
Find and choose your place ID;
Click 'SAVE PLACE AND REVIEWS' button;
Remove the extra widget.
Finally check to see if any new reviews on your site.
​
Again, these instructions are quite clear, if a bit inconvenient, and they worked for me.
The Pro Version, titled
Google Reviews Business
adds some features:
"Tries to get" and displays more than 5 Google reviews
Google Rich Snippets (schema.org)
Supports shortcode and a "powerful Shortcode Builder" so you can add the Google Reviews on any page or location on your site, not restricted to the sidebar widget which in any case would easily become too long if you are able to retrieve a lot of reviews
Slider/Grid themes to show Google reviews like testimonials
Google Trust Badge (right/left fixed or embed)
Optionally adds a 'Write a review' button so visitors can leave a Google review directly from your website
Trims long reviews with a "Read more" link
Can show/hide business photos and avatars
Optionally disable profile G+ links
Option to change the business photo
Adds an option for a minimum rating filter
"Moderation of Google reviews" (I'm not sure what this means)
The Pro version gets around the limitation of the 5 review Google API limit by storing the reviews returned by the Google API in your local database.
The Pro version isn't cheap: It currently comes in at $65 USD for a single site license, $99 for up to 5 sites, and $169 for up to 15 sites. This includes automatic updates and priority support for one year. After that, you can renew your license at 30% off the original price.
So all in all, it looks like a nice addition to a WordPress business site. You will need to decide for yourself whether the feature is worth the cost.
Disclaimer: I have no financial interest in the company that makes this plugin. I am not an affiliate and I received no incentives of any kind to write this review.
Although, if you read this, RichPlugins, I am open to offers of a complementary copy to review the Pro version.