Saw this tweet earlier: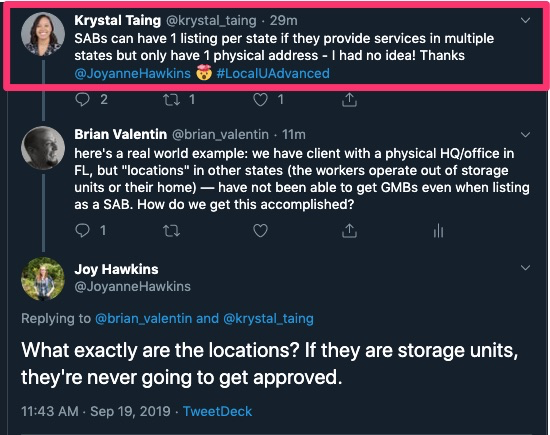 So following up, here's our situation. We have a crime scene cleanup client has a physical location/HQ here in Florida. We have a verified GMB for the "HQ". He operates in multiple locations in different states. But they do not have physical locations. They are the definition of a "service area business" though. The workers either keep all their products/equipment at home or operate out of a storage unit. As Joy pointed out, a storage unit will never get verified (we know this). Additionally, when the client tried to get an office in different cities, those were either not-approved or approved then suspended. Only one of the suspensions have been lifted (I understand why they were suspended, don't agree with it, but nothing I can do there).
According to the original tweet though, we should be able to at least get on SAB GMB verified in any state client is operating in — how do we go about this, or any good advice/tips to get existing locations set up/verified?