Came across this problem and I'm not sure how to proceed or even if it's possible to force an update but here goes:
Bridal gown company has their Google Business Profile showing incorrect information — it says they sell "off the rack dresses" but they apparently do not and they are not sure where this info is coming from. This verbiage does not appear anywhere on the site.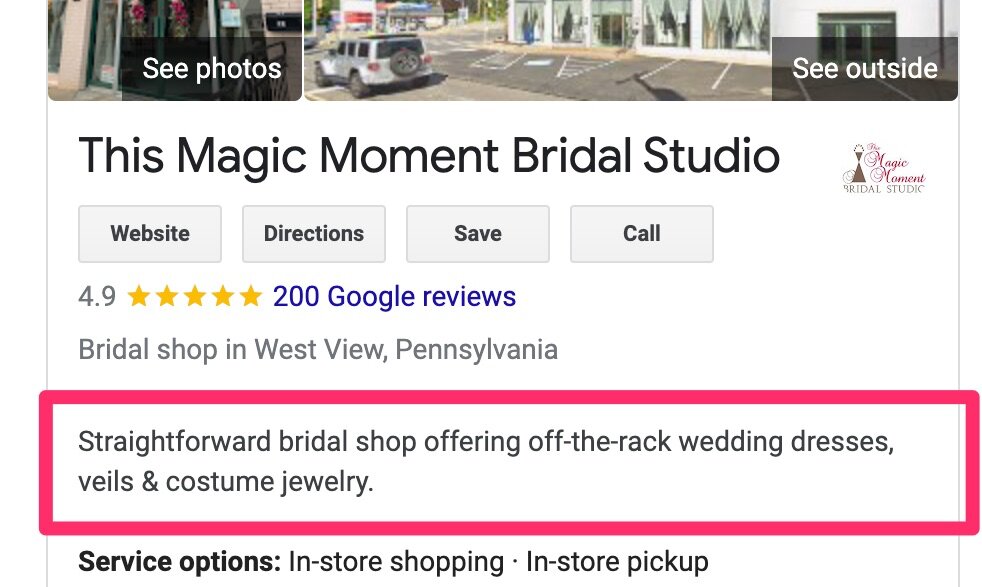 But if you do an exact search for that sentence a low quality directory listing shows up in the index (for their business):

But if you click through that listing does not use that verbiage anywhere on the page nor is it hidden in meta/source code:
153 Perry Hwy Suite 200, Pittsburgh, PA 15229, United States | Clothing store in Pittsburgh, Pennsylvania
www.helpmecovid.com
The owner feels that the "off the rack" wording is affecting her business because she's more of a high-end, custom gowns bridal shop. How can she get this info updated/corrected. My initial advice was to update homepage content, title tags/meta descriptions, and GBP descriptions with wording more specific to her business. I also recommended updating her major social media and directories. That said, the GBP is almost certainly pulling that sentence/descriptor from that directory and how can that be fixed? It's not an editable part of the GBP.