Mapping the Local Online Review Strategy That Every B2B Needs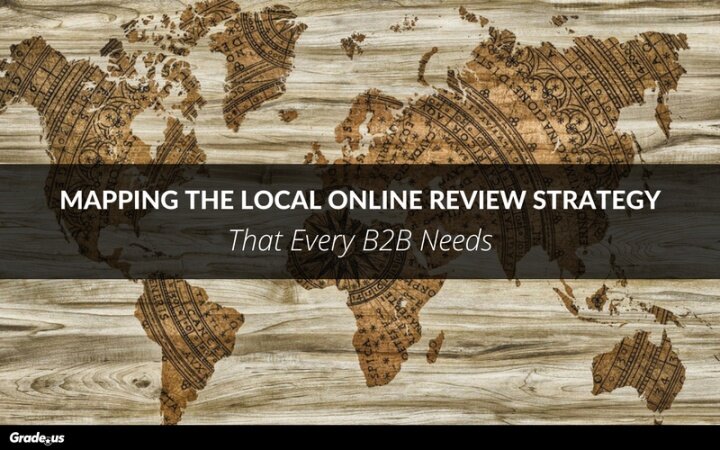 B2B companies are in trouble.

New customers can?t tell you and your competition apart. It?s a component the vast majority of B2B companies struggle with. Then, to magnify the problem, the vast majority of B2B companies have little to no reviews.

If you?re a B2B company, that?s devastating, here?s why.

You?re an expert, your customers are not.

Well, that?s pretty obvious.



Why would they need you if they were the experts? They clearly wouldn?t, they?d solve their problem themselves. Here?s why this is such a serious problem.


Customers can?t evaluate your B2B company

---

They?re not experts.

Most of the time they?re not even remotely familiar with your company?s area of expertise.

This lack of expertise makes them vulnerable.

Customers are smart, they know they?re likely to get fleeced if they make the wrong choice. So they try to hedge their bets. They focus on?




Reviews

Case studies

Price

Availability

Prestige

Control


Location


Customers search for anything they can to minimize their risk. Their focus isn?t necessarily success; often times it?s eliminating and avoiding pain.


You won?t eliminate customer pain if?

---

You?re missing an online review strategy.

That?s because the details B2B customers focus their attention on aren?t necessarily the most important. Believe it or not, customers want the same basic things from you (most of the time).

1. Trust. B2B Customers want validation, social proof stating you?re a safe choice to work with. They want to know you?ll always act in their best interest even if it hurts you.

2. Authority in the B2B space is incredibly important. B2B customers want to work with experts, leaders in their fields. If they can attract experts at a bargain, even better.

3. Less risk. Choosing the wrong company can be devastating. A bad decision can cost decision makers their jobs, ruin careers and erode profits. Customers in this space are terrified of making the wrong decision and they look to you to reduce risk.

4. In-group favoritism. B2B customers want to see that you?re part of their group, that you share the same values and approach they do. Customers use what they see to make inferences about your values and whether you?re like them.

B2B companies are run by people. An online review strategy gives these people, your customers, the things they need to feel comfortable working with your business.



Sharing these details with customers gives them confidence.




How do you get B2B prospects to trust you?

---

When they?re first introduced to you they look for social proof signals, 3rd party sources to vouch for your business? credibility. They search on Google, browse through LinkedIn and troll review sites looking for reviews.

Bad news, if you don?t have what they want.

When you?re missing these factors, it becomes difficult for customers to choose one company over another.

An online review strategy gives your customers confidence.

You?re able to differentiate yourself from the competition in a way that matters to customers. Customers receive the things they need to choose your B2B company over a competitor.

It?s a win/win right?

Sort of.

It all depends on whether your B2B company has the right online review strategy in place.

Okay?



What does a profitable online review strategy look like?
Andrew goes on to lay out a step by step strategy for building an online review portfolio and using it to your advantage as a B2B company. Read the full post here.

What's your B2B review strategy?