Moderator
Local Search Expert
Joined

Jun 28, 2012
Messages

13,313
Reaction score

4,148
Many Pros I work with have asked how to embed a map with the NEW Google maps.

The fact is that feature has been missing and was just added a few days ago.

The good news is Google just announce the embed a map feature for the new Maps.

(It's hiding under the gear icon)

The bad news is I don't think you want to to use it - and here's why... WOWSER... look at all those competitors!
Compare it to the nice, clean, competitor-free classic maps above.
Which map do you want to embed on your client's contact us page???

We do the hard work of getting a potential new patient (or customer) to our client's web site --- maybe even pay for ads to get them there --- then they go to the contact us page to see where they are located. Why on earth would we want to show them all the other competitors that are right near by??? One more chance to lose a customer and have them surf off to someone else!

Embedded maps are for helping customers find YOUR business, not to help them find all your competitors!

And now for the coup de gr?ce...

ADS

are coming to your embedded map soon!

In 90 days, ads may appear on your embedded maps on your client's contact us pages. Will it be competitor ads? Not sure. But I think all the competitor map pins on your map should be enough to sway you away from using the new maps embed code.

The new map has no phone, no link to site. Not a big deal if embedded on the contact us page, but if embedding it elsewhere, having the phone and site URL link is a benefit.

In my Advanced On-site Local SEO course, one of the "Local Hooks" I teach is how to embed the map right so that it carries some local SEO benefit. I have a whole video on all the issues you need to pay attention to when embedding the map and how NOT to do it. I also teach a super advanced Local SEO trick no one else knows which deals with the map code. None of that benefit passes through or is even possible with the new Maps embed code. Anyone who has taken my course can clearly see at least part of the issue with the new embed code.

FYI I'm working on the new release of the On-site Local SEO Video course.
Should be finished soon. Email me to be on the priority notification list

.

New Google Maps embed option articles and resources:


Official:

Google Geo Developers Blog: Jazz up your site or blog with the new Google Maps embed

"Finally, over the coming weeks we'll be introducing a new ad experience we think is attractive for users of the new Google Maps embed. This new on-map design will allow relevant local businesses to connect with your users, similar to the ads you currently see in the new Google Maps and Google Maps for Mobile."

Embeds Return To New Google Maps, Will Soon Include Ads | TechCrunch Google Maps Gets New 'Embed Map' Feature, Embeds To Include Ads | WebProNews Google introduces new personalized Google Maps embed Questions? Comments?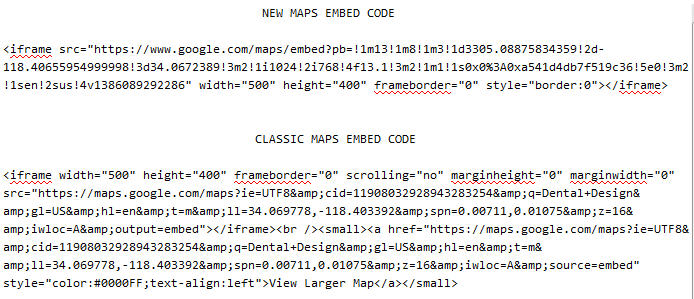 Last edited: