New Google My Business Dashboard
By Claire Carlile,
Local University
November 24, 2020
Back on November 19th I spotted that my Google My Business dashboard had had an overhaul in terms of design, and tweeted to see if anyone else was seeing it:
It seemed to be pretty new at the time, but it's rolling out for others now according to the Twittersphere – so this is a heads up in terms of what you can expect in terms of features.
A few people have commented on how S-P-A-C-E-D out everything is. I like it. It feels clean and tidy and somehow less cluttered than the previous iteration of the dash.
Shows you the business status:
verified
suspended
verification required
code requested
Jason Brown illustrates the new icons for some of these in this tweet
If you've requested a code you can click to enter the code right from the dash – no need to click through to the business listing itself.

The pencil icon is a shortcut through to the info tab for that business – cutting out the click to the business and the click to the info tab:
If there's a red dot on the pencil it means that Google has published updates on this listing based on third party sources (in my experience usually Google users)

The camera icon is for…you guessed it…adding photos.
Click here to go to the photos tab, and the 'upload photos' pop up appears automatically – that saves you 2 clicks!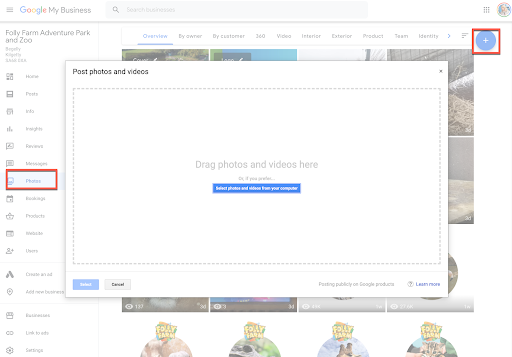 Click on the little text icon to add a Google post: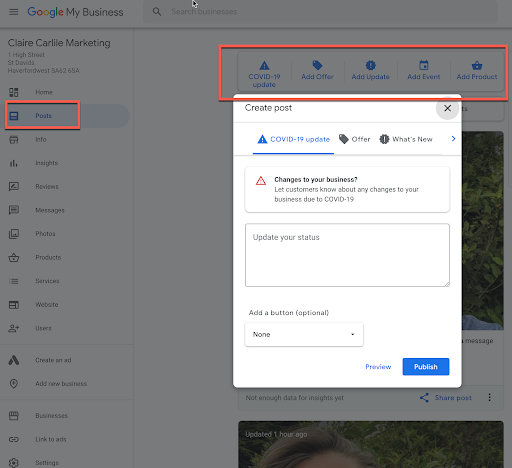 Again, this saves you 2 clicks. Your RSI will thank you.
If your primary category is such that you don't have Google posts then you won't see this icon in the dashboard.
I find it interesting that Google has managed to consider this in the UI – as those businesses that don't have access to posts will keep seeing 'add a post' in other places (such as the business profile) which from time to time makes them think that posts access has opened up to them.
However, this isn't the case – it's just the UI dangling an unattainable carrot:

And finally, we have the 'see your profile' button. Before, this was only found on the RHS of the 'info' tab, where it still lives up next to 'view on maps' and 'share your business profile':
Now you can quickly click through to the business profile in search, right from the GMB dashboard, and see if your updates are showing: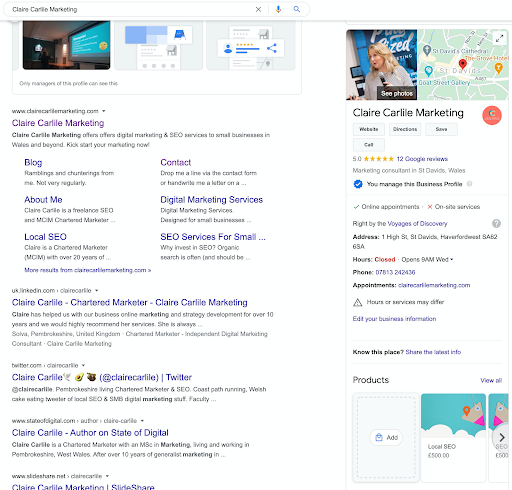 Final thoughts​
I'm pretty pleased with how the new dashboard looks and works. Google has taken key actions that you used to have to click through to the business profile to complete and popped a link to them right in the dash.
I imagine these UI changes are informed by both what GMB users want and need to do, and by what Google wants and needs users to do. So get cracking with adding photos and posts and take advantage of the spangly new shortcuts!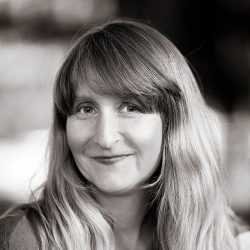 Claire Carlile
Chartered Marketer at
Claire Carlile Marketing
Claire has worked both client and agency side over the years, with the last 10 years spent running her own business offering freelance SEO and digital marketing services to a range of small and medium-sized businesses both in the UK and abroad.She's worked with businesses to deliver positive life and business changing results for companies in tourism, hospitality, and e-commerce.Claire has worked in digital marketing for over 20 years, primarily in the SEO and local SEO space. She's a fellow of the Chartered Institute of Marketing, a Chartered Marketer, has an MSC in marketing.