In my few years of digital marketing, I haven't run into this problem. A new client has a site on Shopify. Some pages have decent meta tags (ie. page title & description) written
but
when looking at the mozbar or even the page source, those meta tags are not found anywhere. I see tags from the shopify app: SEO Product Optimizer in the source code (for facebook / twitter) but that's it.
Even when hovering over the Chrome tab, usually you'd at least see the page title but not here. Instead, you see the URL only. Example below: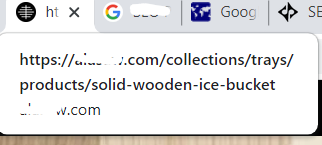 This is driving me crazy. I've written new meta tags and had Google re-crawl via the search console too.
Google is ignoring the meta tags and using random text from the page or even from a popup on the page instead.
I'm not sure why Google wouldn't use
any
of the meta tags on
any
page of the website. They are all very relevant to the search query and have the query in the tags. They are not too short or too long, not keyword stuffed etc.
PM me for the URL (don't want it to be visible on Google if I post it in this thread)
Thanks!