Online Review Challenges for the Small Business: Low Customer Volume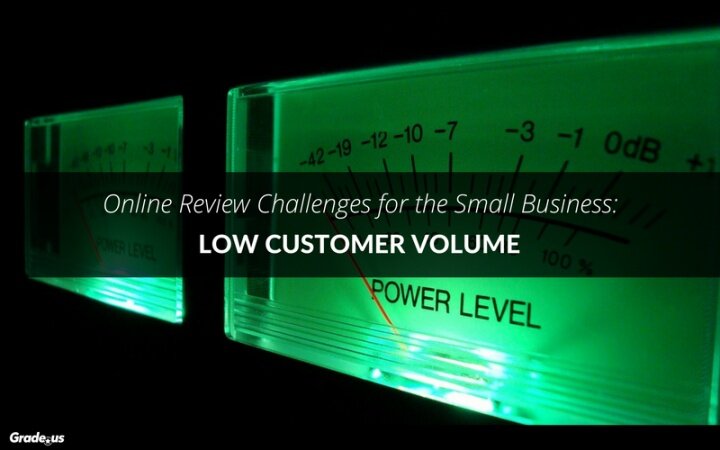 Low volume businesses have it tough.

These businesses receive a small amount of customers by design. They?re selling a product or offering a service with inherent restrictions ? these limitations make it hard for them to get reviews from customers and manage their reputation.

They?re in a tough spot.

Some are serving customers locally in a small town. Others may be selling a product or service to a tiny segment of the population. A few sell big purchase or single use products. Some are new business with no history, who are struggling to build their reputation. Whatever the case, these organizations are dealing with a small volume of customers.

This means they?re vulnerable.



A negative review for these low volume businesses would be devastating, doing significant damage. A stream of positive reviews could establish them as leaders in the marketplace, way ahead of their competitors.




They have to overcome their low volume challenges first

---


These businesses experience a significant amount of challenges within their business and their market. What makes these obstacles so challenging is the fact that it?s tough to work around these problems.

What exactly do I mean by challenges?



Problem #1: Selling a one-time purchase with terrible reviews is tough

---


Some products are single use or one-time purchases.

For example, customers looking to buy an in-ground swimming pool know they?ll be spending upwards of $30,000. They?re also expecting an ongoing monthly fee for maintenance and repairs. They probably won?t be looking to buy another pool afterwards.

Most customers will need a second mortgage to finance their pool of choice. Financing is more difficult to get these days, so customers are naturally more focused on reviews.

The competition is intense, but the volume of customers is low. The absolute last thing customers want to see is a review like this?



Or this.



A Google search for this company reveals a two star rating overall. That?s devastating for two reasons:

1. This company is local.
2. In-ground pool installation is a low volume business.

Any customer that searches for this company, will find their poor reviews. Their poor reputation will force them to offer steep discounts and accept a low price to win bids.



This company will have to work incredibly hard,

just to get back to neutral.



Here?s how you fix it.

---


The easiest way to fix the problem with negative reviews and a poor reputation is simply to avoid negative reviews. Almost immediately an objection flares up in our heads. That?s impossible, you can?t make customers say what you want them to!

Force isn?t necessary.

With single use and one-time purchases you set the tone ahead of time.

How you ask?

You?

1. Tell customers that it?s okay for them to share their concerns or complaints. If customers feel free to complain, scold and harass you, they?re far less likely to write a negative review online.

2. Tell them what you?re going to do for them. Show customers your process, what each stage will look like, and how you?ll work for them.

3. Show them what you did for them. Walk customers through the project, give them a tour of the completed project. Ask them if they?d like you to fix, tweak or modify anything on the project. Let them know nothing is too small.

4. Ask them to tell others what you did for them. This is the point where you ask for a positive review. If they?re feeling uncomfortable with the idea of sharing a review, simply head back to step three and try to make things right.



You?ll want to rely on your happy and satisfied customers. Use their reviews as insurance against the negative reviews that come from unhappy and dissatisfied customers. The more reviews you collect, the less damage a negative review can do to your business.
Read the rest of Andrew's post here. He goes on to address 3 other scenarios of low volume businesses that might struggle to acquire online reviews, and how to fix them.

What are your best review acquisition strategies for businesses with low volume customers?