Moderator
Local Search Expert
Joined

Jun 28, 2012
Messages

13,313
Reaction score

4,148
Some of you may be aware there is a big buzz about an organic algo change and speculation about whether it's Panda or Penguin. Google has confirmed it's not either one, but won't say what it is.
See Barry's post
.
I was discussing the update with
Dr. Pete an others on Google+
and someone brought up the fact that San Jose Plumbers changed from a 7 pack to a 3 pack. I went to check it out and discovered something disturbing in that 3 pack.

Sure hope what I noticed in the SERPs is just a glitch not a harbinger of things to come!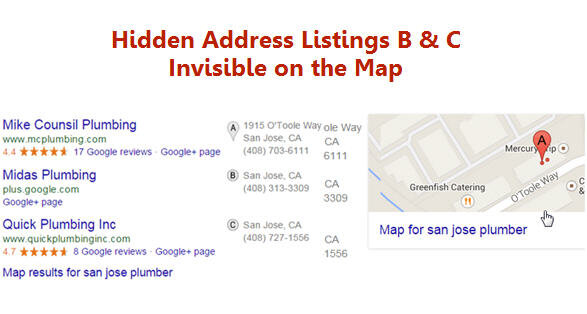 ​
When I 1st saw the 3 pack I just glanced at the map and thought it was one of those brand confusion one-boxes. But then I saw there were 3 plumbers in that pack.
The 2 that are GOOGLE COMPLIANT and have their address hidden, are invisible on the map.
Hoping it was a glitch, I went to my small town where I know there are lots of plumbers with hidden addresses. This is what I found.
​
Again only 2 out of the 7 are showing with markers on the map. All the compliant businesses with address properly hidden don't show up. So if a consumer were to glance at the map to see who's closest it appears there are only 2 to choose from.
But then I checked several other packs and they all showed normally with round markers. So again not sure if this is just a glitch with those 2 packs OR if she's testing of some new display change. Sure hope it's not the latter!
SABs with hidden addresses as you know normally show with a round marker instead of teardrop. BUT they usually show. EXCEPT on new maps where the markers stopped showing for hidden address businesses awhile back.
I only had time to check about 10 packs. 2 out of 10 were bad, but wanted to share and see if anyone else has noticed this?
Can you check some markets and tell us know if you see normal packs with round markers for hidden addresses OR ones like above where hidden address businesses are invisible on the map?

What are you guys seeing???
<meta property="og:type" content="article"><meta property="og:title" content=""><meta property="og:description" content="">
<meta property="og:image" content="">