Hi,
I hope this isn't too confusing.
To explain, we are a business which is almost split in half into two complimentary (but distinctly separate) services.
Without getting too specific, we offer services to the elderly community so one half of our business focuses on services to do with hearing (such as providing hearing aids and tests) and the other half is aimed at providing products and services to help aid with mobility and independence around the home (such as stairlifts, wheelchairs etc).
We have 15 branches so I have done the usual multi-location strategy, which is to build out location specific pages for each branch, link the G pages to the branch pages and adding and tidying citations for each one.
Up until now I have been focusing on the mobility side of the business (including having this as my primary category in G Business), but I have now been asked to instead target terms for the hearing side.
I'm looking for advice on what to be wary of, how to set this up and what risks I might encounter here.
Is there any way of targeting both main keywords on one location page?
If not, one idea I had is to split the shop pages down to their respective services.
For example, my url string currently looks like this:
brandname.com/shops/locationpage
I was thinking of changing it to this:
brandname.com/shops/location/hearing-aids
brandname.com/shops/location/mobility-aids
The problem with this is I'm forced to link only one of them to the G page.
Should I then set-up a 301 to re-direct from brandname.com/shops/locationpage to brandname.com/shops/location/hearing to transfer and maintain the page authority to this page?
If I do that, I know we will probably drop away for mobility related terms. I know that there is obviously no guarantee that we will come up for hearing related terms as well.
I've just done a search for each branch for its secondary category, which is 'hearing aid shop' + location and 8 of them either get a 1 box (I think that's what it's called...we are top of organic listings with a flyout on the right with our business details in a box) or we are in the top 3 local listings, which is good.
We don't come up much in organic listings though (which are full of directories, big national brands and slightly smaller operators/competitors but who have a laser focus on hearing).
Annoyingly 4 of our branches are in 4th position in local listings.
The other 3 are a bit lower down.
It's hard to work out much of rhyme or reason to some listings though.
For example, this branch appears in 8th place and these are the businesses located above it (apologies for the ugliness of the MS paint spraycan hatchet job!)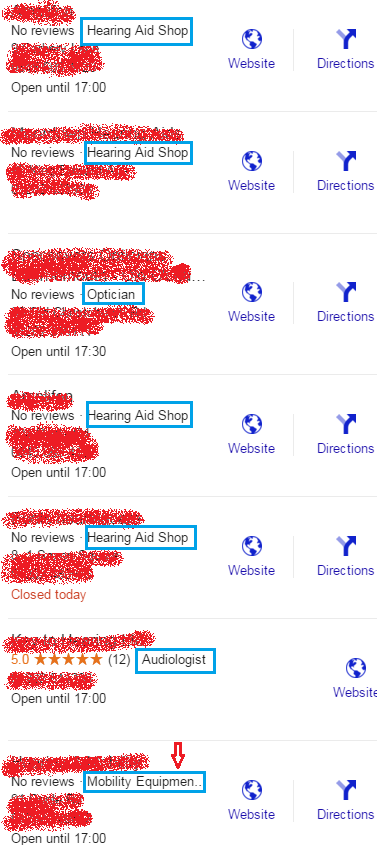 There we are underneath all of those branches with a more 'hearing' focused primary Google business category.
Of course, their pages and citations will also be more hearing-centric than us as well.
However, here is another branch of ours with the same primary category sitting at the top!
The only difference between the two pages is there is not a dedicated 'hearing' paragraph in the first example, just a quick mention. The one at the top has slightly more text on our hearing services.
However again, for this branch below the location is a major city and I have written nearly a 1000 words about our hearing aid services in this area and we come fourth: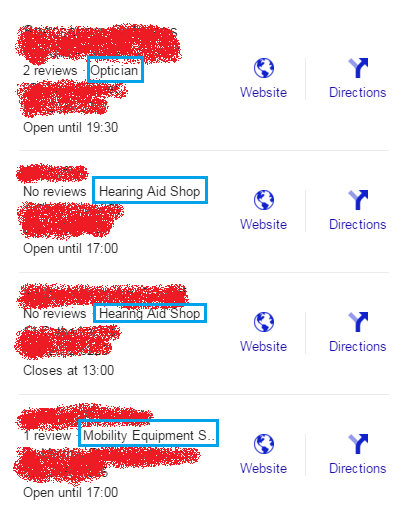 I think for this last example we come fourth not only because our main G category doesn't match but also because we are quite a distance from the centre of town compared to the top 3.
We get the business box/one box/knowledge box if you search for hearing aid shop+the area of the city, so maybe 4th is the best that this branch could actually ever get.
Do you think that I should try and simply add more hearing-centric content to all of the location pages, change the page title/h1's slightly, build up more citations on hearing focused pages/directories and then see if the needle moves?
Or am I forced to only focus on one service only and change the url structure and build out dedicated service pages for each of the branch pages and be forced to choose only one side of the business to focus on. The fact that you have to have a 'primary' category does seem to suggest this.
Has anyone else had to deal with a business like this which is almost like two businesses in one?
Many thanks for any help!