Moderator
Local Search Expert
Joined

Jun 28, 2012
Messages

13,313
Reaction score

4,148
How many here have made a prospect's eyes glaze over???

Bamboozle them with your brilliance? Wow them with your knowledge of the algo?

Sometimes simple is better!
You often hear me say that Local Search is like a giant, very complicated puzzle and whoever gets the most important pieces in the right places for that particular keyword in that market wins --- and gets to sit at the top of the pack.
There are over 300 factors that go into the algo, but it can simply be broken down into 4 primary elements.
When I designed the Local Search Forum's logo, well it's obvious where I was going with the concept...
Last night I played around with a simple image that breaks down the 4 most important pieces of the local puzzle, using my logo as the centerpiece.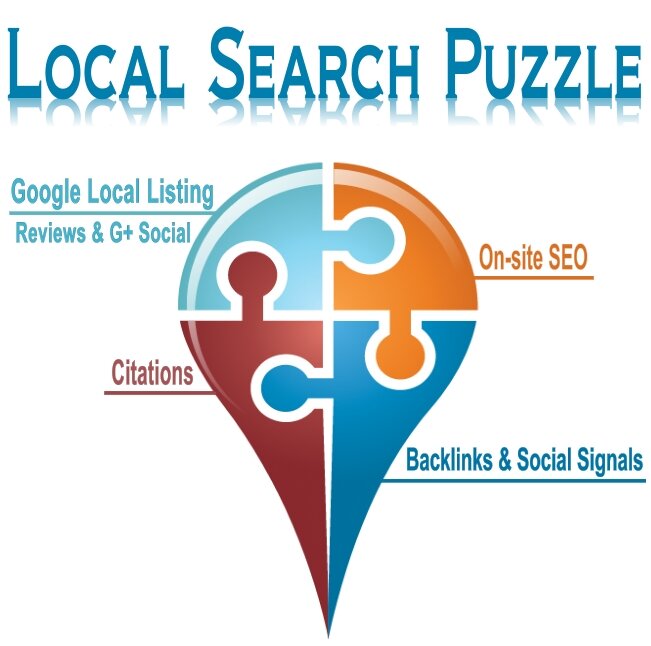 ​
That puzzle is highly over-simplified of course, because under each of the 4 primary puzzle pieces are a ton of smaller, much more detailed pieces that need to fit together.
I often say the Google Local algo is like a kindergartener trying to put together a puzzle. It's amazing how smart she is, yet at the same time, you need to realize, she can be easily confused.
Many businesses have totally missing or broken pieces, like NAP inconsistencies and borked citations. Or they have multiple puzzles all mixed up due to duplicates or multiple practitioners or they have multiple locations that are not set up right.
Picture throwing 3 puzzles on the floor, some with missing or broken pieces. It's going to be pretty hard for that kindergartener to put the puzzle together.
If you don't have clean data and are sending her confusing signals about the business, you can sometimes end up with a puzzle that looks more like this.
​
So anyway, I could probably go on and write a book about all of the different puzzle pieces, and actually have sort of, with my 2 training programs.
But my point in this post was just to have a very simple image that illustrates the 4 most important pieces of the puzzle that we can all point SMBs to, to give them brief overview of how this giant puzzle called Local Search, all fits together.
What do you think???
<meta property="og:type" content="article"><meta property="og:title" content=""><meta property="og:description" content="">
<meta property="og:image" content="">