I recently reread the GMB guidelines and came across an interesting section about departments within businesses. This caught my attention because I am currently strategizing how to promote one business and one section of the same business at the same address without violating any guidelines. At first glance, this is clearly against GMB guidelines, but after taking a closer look, I think I may have a case.
Main Client:
Desert Hills Plastic Surgery | Dr. Hayley Brown
GMB Listing
Sub Client:
HairTransplant Vegas/NeoGraft Nevada | Dr. Steven Brown
-- their site and gmb listing is incorrect and does not state the suite, however, he does in fact, work out of the same suite.
GMB Listing
This is a husband/wife duo -- the wife is a plastic surgeon and the husband does solely hair restoration, and has his own client base. There are still some decisions to be made about business names and branding, so please dismiss all inconsistencies with both businesses as my main question is regarding how Google distinguishes 'departments' and what's acceptable and what's not. The guidelines are pretty bland and do not offer much as far as strict regulations, so I was hoping to get your insight.
The reason I think I have a case here is because of the first line in the below guidelines; Publicly-facing departments that operate as distinct entities should have their own page.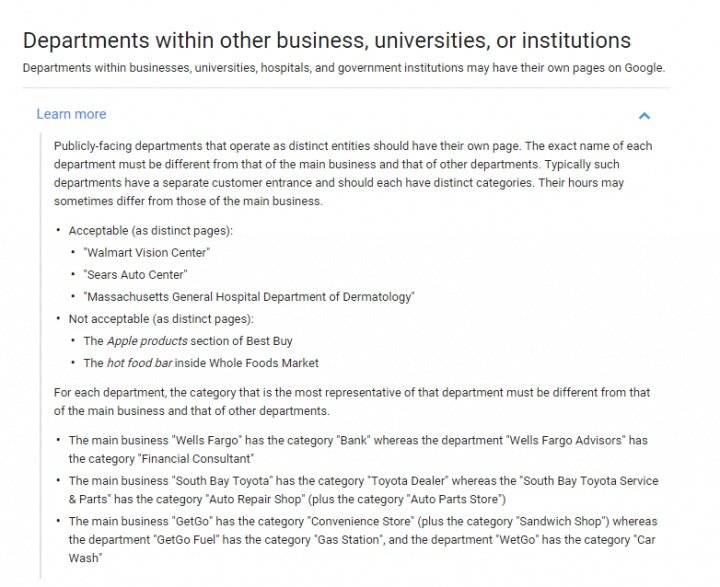 Here are some of the main questions I have after reading this:
Does a 'Department' need a unique phone number?
I researched sears vs a sears auto center listing and below you can see that they do have a unique phone number, domain and category (which is stated in the guidelines) But, must they have a separate phone number?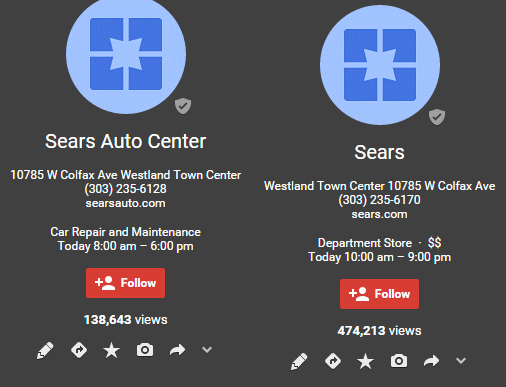 How different does the name of the department vs. the actual business name need to be?
-- Although outlined in the guidelines as "The exact name of each department must be different from that of the main business and that of other departments," the acceptable options Google uses as examples include: Walmart Vision Center, Sears Auto Center, Wells Fargo Advisors -- To me, this isn't different, they just include the business/brand name and throw in what that area of business does. So, does there need to be a distinct brand or can it be completely different than the name of the main business?
Should a 'Department' have a separate domain? -- From the Sears example, this tells me yes, however, I have seen others that simply link to an internal landing page from the same domain -- which is better?
I realize I could just create a practitioner listing using Dr. Steven's website URL, but I'm afraid if I include his business name, this may be seen as a descriptor or spammy technique by Goog. (Even though he already has a GMB listing for his business, which was created prior coming to us)
I may be over analyzing this, but before I start cleaning everything up, I wanted to get some advice. All thoughts welcome! Thanks in advance!