Moderator
Local Search Expert
Joined

Jun 28, 2012
Messages

13,313
Reaction score

4,148
BrightLocal just published their 2013 Review Survey which had 2,100 participants 90% from the US and 10% from Canada.
The survey was conducted over 6 weeks in January and February of 2013 and includes 14 charts filled with great data you should have bookmarked. Here is just one example: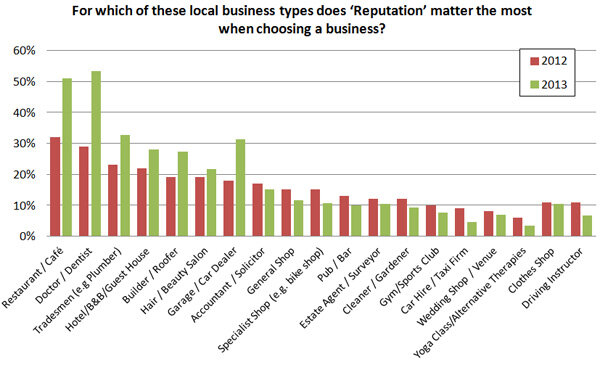 ​
Key Findings
Restaurant – 51% (up from 31%)
Tradesmen – 33% (up from 23%)
Garage/Car Dealer – 31% (up from 18%)
Hotel/B&B/Guest House – 28% (up from 22%)
Builder/Roofer – 27% (up from 19%)
(Also see the analysis that follows that section for more info.)
All the charts and analysis can be found at the link below.
Local Consumer Review Survey 2013

The findings of the 2013 survey provide further, unequivocal evidence of the growing influence which online reviews have on consumer attitudes and purchasing habits of local business services.

Consumer consumption of online reviews has grown and evolved from 2012, as it did from the 1st wave of this survey in late 2010/early 2011 (refereed to as 2011 for simplicity).

More consumers are consulting reviews as a logical step in their pre-purchase research of local business services. The increasing supply of reviews on all types of business make is easy for us (as consumers) to validate our selection of a local business before we contact them and to learn from the experiences of other consumers. It begs the question: why would you NOT check our a business's reviews before choosing to use them?

Trust in reviews is also on the up, enabling consumers for form opinions faster and act on those opinions. However the authenticity (or perceived authenticity) of reviews is becoming a more significant factor as consumers become more accustomed to reviews.
What do you think? Helpful info to know and to show clients, right?