5 Frameworks for Creating Local Events with Community Value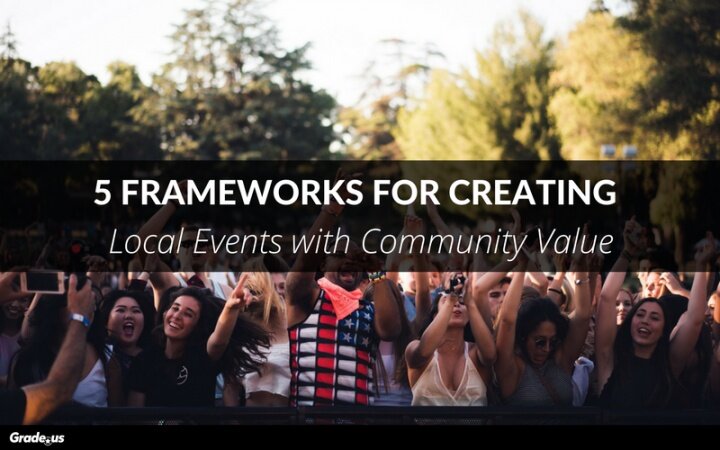 Admit it.

You?d love to have a never-ending stream of positive online reviews. Being able to attract eager customers who value your work. To receive praise locally from the communities you?re a part of, and build an amazing reputation that attracts customers, sales and glowing reviews?

Most businesses won?t get it.

Not because they can?t get it, but because they don?t know how. They don?t know how to use local events to attract attention. They simply aren?t able to generate the results they need.
Can you use local events to attract attention?

---

Is there a way to use local events to attract customers and boost positive reviews for your business?

Absolutely. You do it by serving.

That sounds generic and really unhelpful doesn?t it? Let?s take a closer look.

You serve those with an audience. Individuals, businesses or organizations ? it doesn?t really matter. You go on a quest to find ways to serve complementary partners, those who serve the same basic audience you do in a different, yet complementary way.

Here?s what that looks like.

If you?re a?




Realtor looking for rave reviews you?d serve mortgage brokers, appraisers, home inspectors and title companies.






Plumber, you reach out to general contractors, mechanical engineers, electricians, etc. Anyone who?s part of the building, development or maintenance process.






Marketing agency, look for opportunities to help serve production houses, specialists like copywriters, graphic designers, marketers, etc.



See the connection?

You can?t serve everyone. You can?t be all things to all people. Instead, find the people whose business complements your own. These are the people you can make a difference for.


Your greatest impact comes from those you?

---

? Help the most. But how?

You probably want more customers and positive reviews, right? It?s not like you can walk into a random office and walk out with an address book full of happy customers and glowing reviews.

So, how do you do it?

How do you attract more customers who are eager to give you positive reviews? You figure out what they want. Every business has a list of desires, goals, fears, frustrations and problems.

Find out what they are.

Next, come up with a never-ending list of ways to serve each of your partners, helping them get what they want. This works best if you?re able to give at first without expectation.

This is both crucial and valuable.

That?s because giving initially, without expectation, is incredibly rare. You see this gross behavior at work on social networks. Follow other accounts on Twitter or LinkedIn, join a few groups and you?re bombarded with requests.

You see it with inexperienced sales people. Answer a cold call, express even the faintest interest and the sales person hounds you until you stop answering.

We?re all conditioned to be skeptical these days. It?s tough to get past gatekeepers. It?s tough to get in touch with real people.

How are we supposed to get potential partners to accept any of the local event ideas we have?

With a framework.

The right framework gives us a clear structure to follow, showing us when and how to approach potential partners with our event ideas. A framework gives us the ability to create new ideas at will, instead of becoming focused on the ideas we want to work.

The beautiful part about these frameworks is this: Handled properly they create the openings you need and methods you use to serve.



Let?s take a look.



Read Andrew's full post here to see the 5 frameworks he lays out for developing great local events.