Moderator
Local Search Expert
Joined

Jun 28, 2012
Messages

13,313
Reaction score

4,148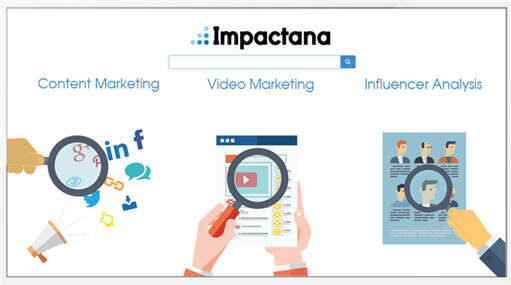 How do you get more traffic, engagement and links for all that content you create?

By creating compelling content that will get you more traffic, engagement & links!
​
How do you know what the most compelling content will be? Especially if you are in charge of content for clients, or tasked with giving them ideas to blog about???
Coming up with great content ideas that generate social buzz and long-term engagement is tricky! Especially when you don't intimately know the industry your client is in. Plus there is always the writers block issue to contend with.
Enter
Impactana
- a very cool new tool that does a variety of things that could help your content marketing - and I'd even say link building outreach efforts.
There are several tools out there you can use to track and measure content popularity via social signals,
but Impactana goes beyond social sharing metrics to help you discover content ideas that can really make an impact in your client's industry.
Someone could buy a bunch of Tweets and that would make you think a post was popular, based on other social metric tools. But some engagement metrics are harder to fake.
In addition to social signals Impactana, also shows you # of backlinks, views, engagement, comments, clicks, downloads, and provides author and influencer intel.
Let me share a couple posts from their blog instead of trying to explain it. In these posts you'll find lots of screenshots and videos as well. PLUS I've included a short video below.
1 .:. NICHE RESEARCH & CONTENT IDEAS
​
This post shows you how you could discover hot topic ideas OR find influencers in the Real Estate niche.
<a href="http://blog.impactana.com/real-estate-content-ideas">Content Ideas for Your Real Estate Website</a>
2 .:. COMPETITIVE INSPIRATION
You can search ONE specific site and find out what their most popular posts were, how many shares, links, etc. AND research the author in very great detail, including other places they post, and even get their contact info. (If you want to ask them to do a post for you OR want to share a great related post you did with them, to try to get links, coverage or shares.)
For example, just for fun, I plugged in SearchEngineLand.com just to see what some of the most popular and engaging posts over there were. If I had a blog focused on SEO that could provide some intel and stimulate post ideas.
However, it does not seem to find info on small local business sites. I even tried it on one of the most prolific sites that ranks for "Cosmetic Dentist Beverly Hills" knowing this guy has great content and must pay a fortune for his marketing. Impactana didn't find anything at all. But still in bigger markets and broader topics it might be a fit.
<a href="http://blog.impactana.com/content-marketing-ideas-from-competitors">Content Marketing - How to Use Your Competitors for Inspiration</a>
3 .:. CONTENT IDEAS for BORING INDUSTRIES
This is one area I know many consultants struggle with. How do you come up with COMPELLING content for HVAC contractors or other industries where it's really hard to come up with new, fresh content ideas? ESPECIALLY if you don't know the client's industry that well?
Christoph C. Cemper, the CEO of Impactana, walks you through how you can use Impactana to gather hundreds, if not thousands of tried and tested content ideas in even the most "boring" niches.
Pay special attention to the various filtering steps he takes to drill down to the best content, so you'll know how to do it when you take it for a spin.
<a href="http://blog.impactana.com/content-ideas-for-boring-niches">How to discover great content ideas in boring niches</a>
THEY ALSO HAVE A FREE TOOLBAR for CHROME
(FF coming soon)
You can have this toolbar always with you, to quickly check out metrics and get author intel on any post. Here's a brief 2 minute video that goes over the toolbar, but it also will give you just a small glimpse of the features of the full program.
▶ QUICK VIDEO - FREE TOOLBAR

<iframe width="560" height="315" src="https://www.youtube.com/embed/GlSLdHzhZ5M?rel=0&showinfo=0" frameborder="0" allowfullscreen></iframe>​
Take Impactana for a spin.
You can pay with a Tweet to get the free trial.
h/t Kristi Hines who in the following really great article, turned me on to Impactana:
<a href="http://contentmarketinginstitute.com/2015/09/find-content-industry/">How to Find the Best Pieces of Content in Your Industry</a>
Find tons more Local content creation ideas & tools in our
Local Content Forum
What do you think? HOT or NOT???
<meta property="og:type" content="article"><meta property="og:title" content=""><meta property="og:description" content="">
<meta property="og:image" content="">