Moderator
Local Search Expert
Joined

Jun 28, 2012
Messages

13,313
Reaction score

4,148
​
We get asked here all the time if there are any tools that allow you to see
all
the main keywords a site ranks for. Most rank trackers we use for clients you need select and enter all the KWs you want to track. A tools like the ones I'm talking about, lets you simply enter a URL to see what KWs the site is already ranking for. Sometimes you'll find it ranking for KWs you never would have thought of.
A tool like this is really important for 3 main tasks Local Search Consultants do all the time. (Or should.)
1)
Pre-consult analysis:
Get a quick snap shot of what KWs a potential new client ranks for or important KWs they don't rank at all for.
2)
Existing clients
: Normally you just check rank tracking for the KWs you've thought to track. What if client ranks for other KWs you had not even thought to add to your regular rank tracking software? Or they rank for an important long tail you didn't think of like "Best Dentist in Dallas". It would be cool to know that and report that to the client right?
3)
Competitive analysis and KW ideas
: Check out top competitors and find out what KWs they rank for.
A) To know what you are up against. B) For ideas of long tails or unique KWs you may not have thought of.
HOT PRO TIP:
When doing competitive analysis, the obvious thing most consultants and business owners would do is check the top ranking competing sites
in their market
.
GO A HUGE STEP UP and target the top ranking sites in a large competitive city, where you know many of the businesses have high end agencies working for them.

For example if I had a Dental client I would research "Beverly Hills Cosmetic Dentist" because I used to have a client that was one of the highest end Dentists in that market - so I know all those top guys spend a ton on marketing with some huge ad agencies and many are doing some very unique marketing. (So let some of those big smart agencies do some of the KW leg work for you.)
I have a couple tools I've used to find what keywords a site is already ranking for, but I recently discovered a new one at Search Engine Land.
K-Meta
is free. Some of the low end freebie tools I've used were not very accurate. But at 1st glance this one seems to be. But any tool like this I'd just use for detective work and discovery. Then when you find a KW you are interested in, I'd always double check in Google.
Below is a K-meta report for a Dentist that always ranks #1 for "Beverly Hills Cosmetic Dentist."

NOTE:
The screenshot does not show all the additional KW data
you can see here
.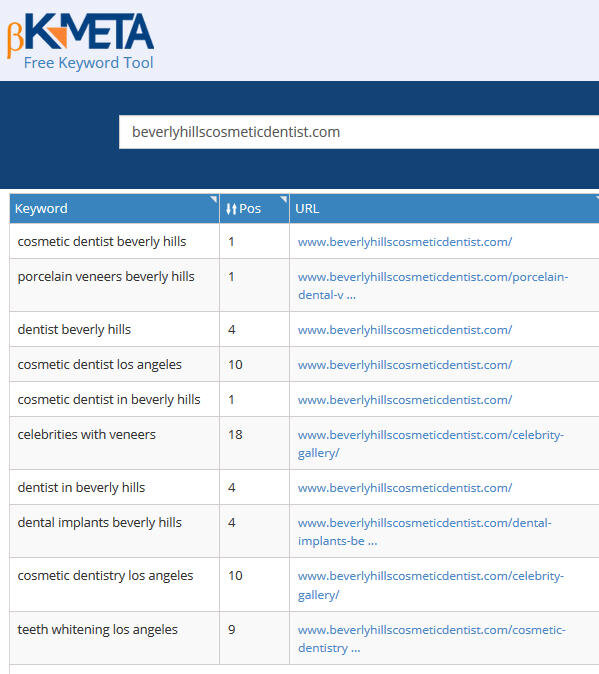 ​
Here is the Search Engine Land post where I discovered K-Meta.
<a href="http://searchengineland.com/four-tools-break-keyword-research-box-236917">Four Tools To Break You Out Of The Keyword Research Box</a>

There are some tools like SimilarWeb Pro and SEMRush that will attempt to give you the various keywords a domain ranks for on Google.

Using these tools, you can simply input one or several competitors of yours and try to see what keywords they are doing well on, and then add those to your keyword research.

If you aren't a subscriber of SimilarWeb or SEMrush, K-Meta is a free alternative that is worth checking out. The data may not be as robust, but you can't beat the cost!
So there is a new little tool to add to your arsenal. Hope it helps!
Above is just a partial snippet, click through to read the rest.
<meta property="og:type" content="article"><meta property="og:title" content=""><meta property="og:description" content="">
<meta property="og:image" content="http://marketing-blog.catalystemarketing.com/wp-content/uploads/2015/03/localtools.jpg">