Moderator
Local Search Expert
Joined

Jun 28, 2012
Messages

13,313
Reaction score

4,148
Excited to announce that today Google is launching a brand new product that may surprise you.
<span style="font-size:48px;color: orange;text-shadow: 1px 1px 1px #000; face:century gothic">Reviews</font></span>
(Yes that's the product name!)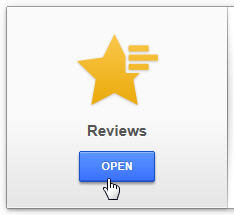 ​
"Reviews" is a new FREE review monitoring/reputation management module that's built right into the new Places dashboard. (Screen shots below.) The "Reviews" dashboard shows all your Google reviews/ratings
AND reviews from thousands of 3rd party review sites
. (Pretty much everyone except Yelp.)
This should come as no surprise, if you read between the lines and watch hints she's been giving us about how important reviews are... like the review overlay right on the search results page and the new Google+ Local page design that features Google reviews AND 3rd party reviews more prominently.
HERE IS THE "REVIEWS" WIDGET
(My Google test account for Lindas Snow Shop)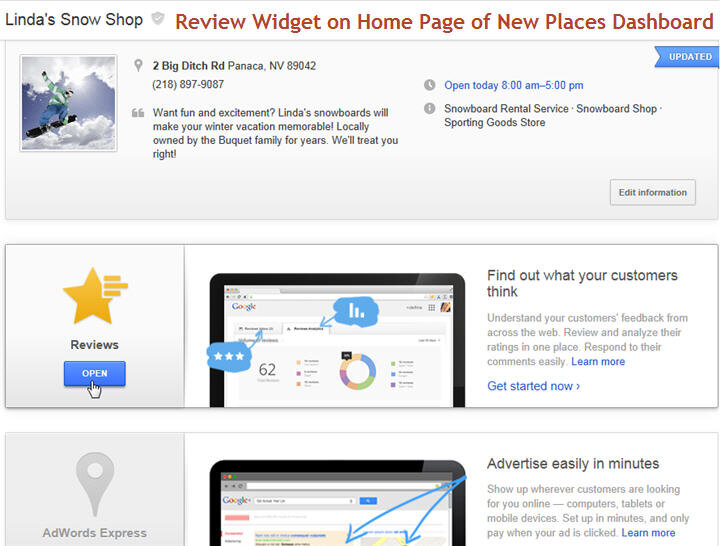 Here are some Google reviews
(My test account with fake reviews)
There would be 3rd party reviews below that if my Snow Shop had any.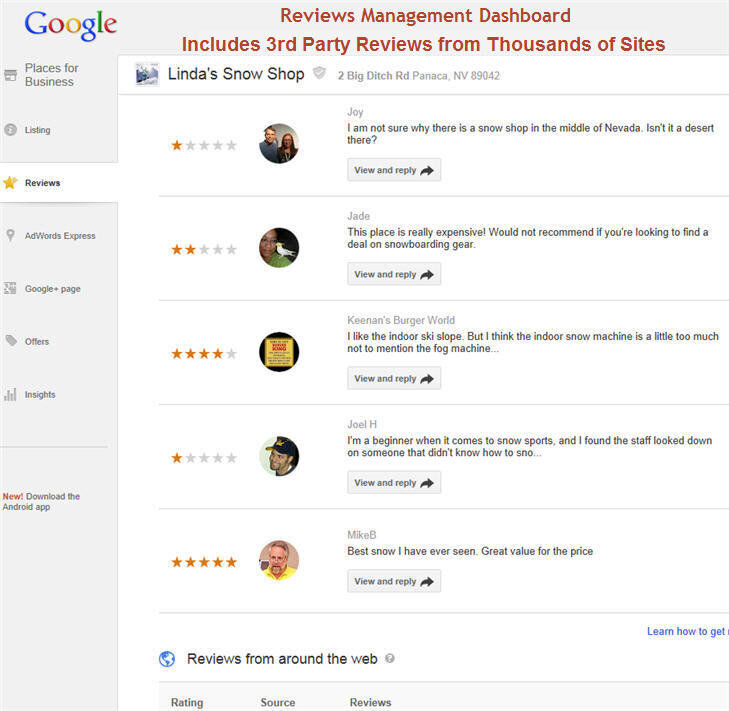 REPLY TO REVIEWS RIGHT INSIDE THE REVIEW DASHBOARD
Here is the negative review Joel Headley from Google gave Linda's Snow Shop...
...and my snarky response to his review.
REVIEW SENTIMENT ANALYSIS
(They look cool and colorful with 3rd party review which my fake listing does not have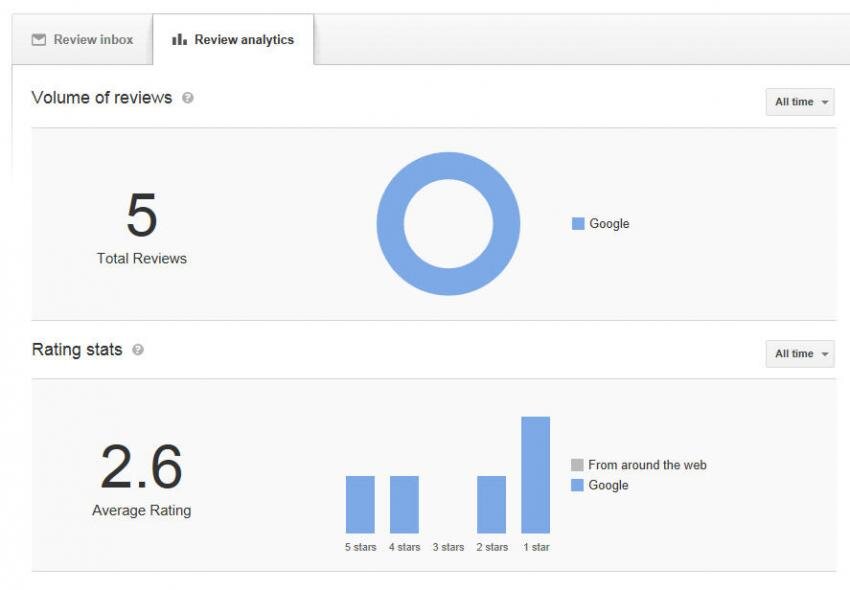 OFFICIAL GOOGLE BLOG POST HERE:
Announcing Reviews in Google Places for Business
​
I'm really excited about this option and feel it's a win for local businesses everywhere. We all know Google has scrapers. Usually we see those scrapers gathering data for CONSUMERS so they can find all the info they need right on Google. (Info like reviews, flights, hotel rates, related businesses etc.) With this update they put their scrapers to use to help the business owners with meaningful data that can help them manage reputation and hopefully use the info to improve customer service or quality of care.
OUCH! Just looked at pricing for some of the companies that offer review monitoring. They are going to feel a big dent from this new free Google service. They charge $29 - 400 a month for something Google will now do for free. Big win for all the small businesses that use Google, eh?
Linda's Q & A
(Here are a few Qs I can anticipate...)
Q: Are "Reviews" available in the old Places dashboard?
A: No only in the new dashboard, but don't worry you should be upgraded fairly soon.
Q: Will there be alerts or notifications of new reviews?
A: Not in this version, but Google is aware it's a much requested feature.
Q: I'm in X, Y, Z country, will I get this new toy?
A: This rollout is supposed to be worldwide all at once, not a gradual rollout. So as long as you have the new dash, you should have "Reviews".
Q: Does anything change with the review process or consumer-facing G+ L page display?
A: No this feature is tool for business owners - the only change is inside the Places dashboard.
This would have really surprised me if I didn't know about it, but when you think about it, it makes perfect sense for Google to gather this data and show it in the dashboard. And as I said it's a BIG win for business owners to help them stay on top of their reputation across the web.
For consultants, it's one more report or metric you can share. (Since we know many business owners never log in and check their dash.) I don't think there is a report export option or anything and I'm not sure there will be. But just take a screen shot and add to your monthly reporting.

What do you think???

Surprised? Impressed?
Questions?
Disclosure: I got a preview/test account. Google did not pay me to write this PR and opinions are my own.