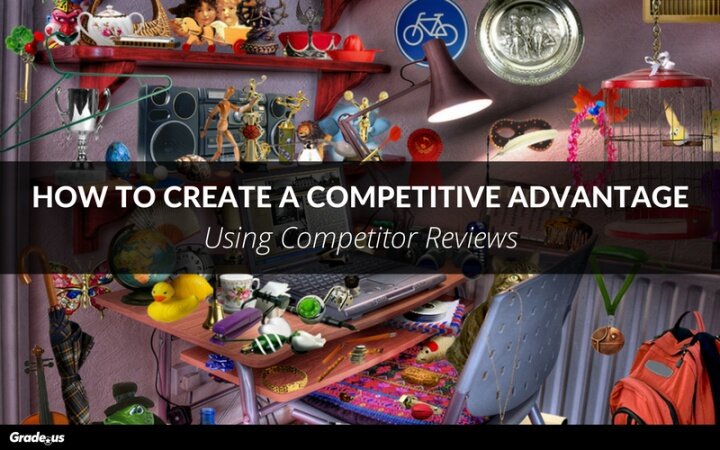 ​
How to Create a Competitive Advantage Using Competitor Reviews Steven Davis was on his way to prison.

His story is an example of competitive research gone wrong. He was an engineer for Wright Industries, a manufacturing firm hired by Gillette to help develop a new (and very secretive) razor. Davis, angry with his supervisor and worried about job security, decided to share trade secrets.

With Bic.

Gillette?s biggest competitor.

He was caught ? fined 1.5 million dollars and sentenced to 27 months in prison.
Every company needs competitive research

---

It?s a necessary part of creating uniqueness and a strong value proposition. It?s also important because it shows us where we stand in the marketplace. Competitive research enables us to gauge perceived value ? from the customer?s point of view.

The usual sources ? interviews, surveys, questionnaires, focus groups ? are helpful. But they come with an easy-to-ignore problem.

Our conventional sources are reactive.

Most of the time customers are asked to react to our questions. ?What do you think about this? Would you buy that?? The answers to these questions are helpful, but they?re only half the story.

Relying on these questions gives us a slanted view of customer perceptions.

What?s worse, approaching customers using these conventional methods creates politeness and dishonesty. There?s a difference between solicited feedback and unsolicited online reviews. Customers often feel an unspoken pressure to be nice, to tell you what you want to hear. The last thing many of them want is to be perceived as rude or impolite.

Most people are socially conditioned to ?be nice.?

Your competitive advantage depends on the truth

---

Or more importantly, your ability to uncover the truth. ?The truth about what,? you ask? What customers think, feel and believe about?


Your competitors

Your business

Your industry

Your products

This sounds like an uphill battle, doesn?t it? How on earth are you supposed to get customers to willingly, proactively share all of that? Here?s the more difficult question.

Why would they share that information with you?

Getting this information is easy, if you have the right source. In fact, there?s a proactive source that gives you the gritty details most customers do their very best to avoid sharing.

And the best part? This source removes you from the equation, almost entirely.

You?re looking for brutal, almost painful honesty

---

And when are people most honest?

When they?re angry or frustrated. A research study by Jeffrey Huntsinger at the University of Loyola found that anger makes us more honest with our feelings.

Does this mean people aren?t honest unless they?re angry?

Of course not.

But reactionary approaches like interviews, surveys and focus groups don?t negate the social pressure people feel to be polite (dishonest). So, they value politeness and conformity over raw honesty.

Reviews give you the honesty you need

---

The issues they reveal give you a clearer picture of your customer?s perspective. These are the details you can use to attract more of the right attention from customers.

Here?s the problem.

We don?t know what we?re looking for. Generic instructions like ?identify strengths and weaknesses? can help ? if you have an idea of where to direct your attention. But most people don?t. So where do you look?



Fears. What are customers afraid of in relation to the product? Did their worst fears come true or were they able to avoid them? How?
Objections. What are their frustration or sticking points? What kind problems did their products cause? Which issues grind their gears?
Risk. What problems are customers trying to avoid? What sort of things make them anxious? Were these risks reversed for your competitor?s customers?
Expectations. What did customers expect before they purchased your competitor?s product or service?
Desires. What?s the deeper desire customers are looking to fulfill with your competitor?s product? Does your competitor satisfy that need completely?
Goals. What are customers looking to achieve with your competitor?s product? Did they achieve that goal?


So now we know what we?re looking for. There?s another problem.

How do we interpret what we see?

How much intel is enough?

Read the entire article here.

Discussion: Have you ever audited your competitors reviews for a client? What did you learn through that process?