How To Turn Your Reviews Into Web Copy That Converts Like Crazy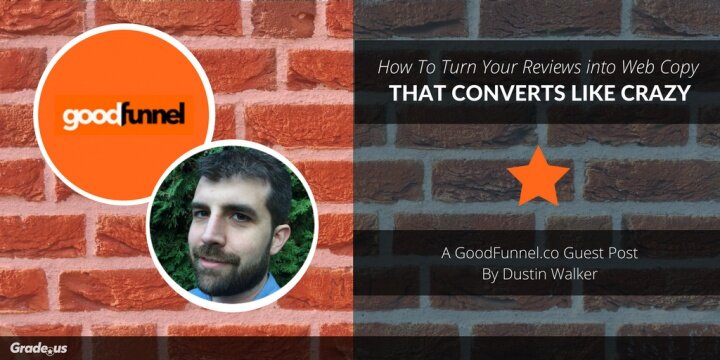 Sometimes, the words just won?t come.

You?ve got a crucial email or landing page that you need to finish up ASAP, but you?re stumped on what to write.



And if you do manage to squeeze out a few words, they end up sounding dull, lifeless or cheesier than an ?80s Coke commercial.



[video=youtube;3rArYMm4DHs]https://www.youtube.com/watch?v=3rArYMm4DHs&feature=youtu.be[/video]


What?s the problem?

It could be that you?re trying too hard to create catchy headlines or subheads, rather than turning to the only people who can really help you pen a persuasive web page?

Your customers.

The words they use to describe your product (and the problem it solves) are far more compelling than anything a marketer or copywriter can come up with on their own.

And hidden within your customer reviews is a smorgasbord of words and phrases that can be ?swiped? and then used to write headlines, subject lines or crossheads that resonate with your target audience.

The trick is knowing what to look for.

I?ll to get that in a moment, but first you might be wondering?.

?Why do reviews work well as copy??

---

Most visitors to your website have at least a basic understanding of what they want. So when they see language that reflects whatever they?re looking for, that copy is likely to connect with them in a meaningful way.

And by mirroring what prospects think and feel when they hit your website or read your emails, you?re able to build more trust, increase engagement and ultimately get more conversions.

Doing customer research, such as surveys and interviews, are also great ways to uncover customer-written-copy. But I recommend digging into your reviews first for two main reasons:

1) It?s often quicker & easier. No need to ?bug? your customers by sending them a survey or hounding them for an interview.

2) You avoid certain research biases. This is a challenge for any type of qualitative research, but by mining reviews you don?t have to worry about things like asking a leading question that might skew their responses.

Let?s dive into how to actually uncover these high-converting bits of copy?

This was a special guest post from Dustin Walker of goodfunnel.co. He goes on to point out 4 aspects of reviews to look for when using the content in your web copy.

Read the full article here.

Discussion:

Do you only depend on classic testimonials, or do you help clients incorporate review content into their web copy?