Administrator
Moderator
LocalU Faculty
Joined

Jul 19, 2012
Messages

4,864
Solutions

168
Reaction score

2,738
Juvo Leads
is a revenue focused lead capture and tracking platform that helps marketing agencies increase website conversions for clients and manage qualified leads in one place.
Track every incoming call, form submission, SMS, and chat. Bring all your client's leads together, and capture more leads with a human operated done for you chat service.
Live Website Chat | Chat Agents + Software | Chat = Leads
: Increase qualified leads by 35% by integrating human operated done-for-you chat service on client websites.
Call Tracking for Digital Marketers - Free Trial!
: Implement dynamic and static numbers, record conversations, and know which campaigns are driving the best leads.
Leads Dashboard and Reporting
: Never miss another lead. Track every chat, incoming call, form submission, SMS, appointment booked, and more. Identify which leads convert and generate the most revenue.
White Label Solutions
: White-label our software and chat service to make every touch point agency-branded.
Convert More Visitors to Customers Through Live Website Chat
Help your clients provide a better customer experience and drive more conversions through
Juvo Leads' live chat service
. Live chat provides fast responsive service in real time, and helps convert visitors into customers. No subpar chatbots here, there is always a human at the other end.
Chat agents are available 24/7, 365 days of the year to reply to visitor questions.
Unique welcome messages and custom chat scripts are created for every business, visitors are assisted immediately and responses sent within the first 12 seconds of contact.
Leads are qualified based on rules defined by the business.
Engagement is results-driven, chat agents are trained to be lead focused and with the intent to onboard all qualified leads.
Captured leads are sent directly to the business via email, SMS, existing CRM's, phone, as well as stored in the Juvo Leads dashboard.
Live chat services are ideal for business-to-consumer verticals like law firms, home services, dental offices, plastic surgery clinics, and senior living facilities.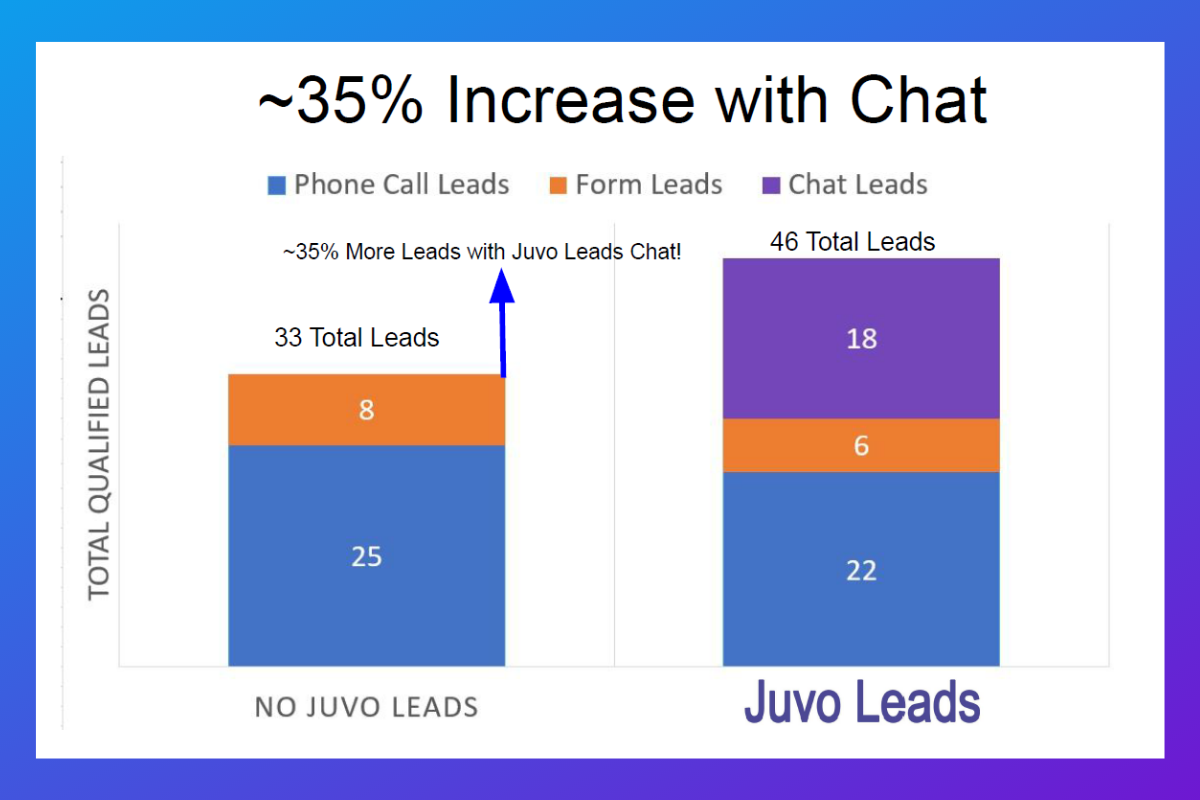 Agencies who have implemented Juvo Leads live website chat have:
Grown their qualified leads by 30-45%
Created additional revenue streams
Lowered their cost per lead
Eliminate the Guesswork and Help Quantify Marketing Efforts with Call & Form Tracking
Fill in the gaps across marketing campaigns and make informed decisions based on real data through call tracking. Track paid campaigns, keywords, ads, landing pages, Google My Business (GMB), social sites, online directories and offline campaigns to gain insights into which channels are delivering the most leads. Give your clients the whole picture of their customer's journey. Eliminate the guesswork and prove how powerful your marketing strategies are by showing your clients every lead you earned them all in one place.
Juvo Leads call tracking is easy to set up, extremely user friendly, and one of the most affordable solutions on the market. There are no complex configurations standing in your way of getting started.
Dynamic Call Tracking - The system will automatically assign a dynamic call tracking number based on traffic (no need to guess how many numbers your pool needs).
Static Numbers - Create static numbers for offline advertisements, specific campaigns, or channels (like GMB) to monitor growth and performance.
Record Calls (optional) - Record inbound calls and use them to inform future marketing efforts, staff training, intake procedures, and to increase customer satisfaction.
Call Log - Not all inbound calls are equal. Use the call log to create metrics for qualifying leads. Establish minimum call-length thresholds, identify whether the individual is a first-time or repeat caller, and see the source of the call to improve your overall marketing strategy.
Google Ads & Analytics Integrations - Set Goals in Google Analytics and import to Google Ads.
Bring It All Together With Comprehensive Lead Tracking & Reporting
Simplify your reporting and never miss another lead through comprehensive lead tracking and reporting. Provide your clients with advanced reporting that informs them about the total incoming leads, qualified leads, signed clients, and estimated revenue earned from your marketing campaigns.
Track, Manage, and Score Every Lead in One Platform
Measure and manage all leads by keywords, ad campaigns, source, landing pages, and device type.
Lead Scoring connected to all your chat, phone, SMS, and form leads. Assess all leads, write notes, set status, and record estimated revenue. Use the collected data to make your next move.
Stop sending confusing Google Analytics reports that don't show the value of the work you're providing to clients. Start reporting on qualified leads and conversions that drive growth for your clients.
Pricing​
Juvo Leads has two main offerings - The done-for-you Live Website Chat and SMS answering service and Lead Tracking Software. Use either or both (but hopefully not neither
.
If you use both chat and lead tracking and spend $150 on Chat the lead tracking is completely free (an $89/mo value). Check out our full pricing here:
Juvo Leads Pricing - Chat Pricing and Lead Tracking Pricing
.
With Juvo Leads your agency can create additional revenue streams, reduce overhead, grow qualified leads for your clients and equip them with powerful monthly reports that they understand. To see how many leads your clients and your agency will earn with live website chat get a custom quote by signing up here:
Contact Juvo Leads and Schedule Your 15 Minute Screen Share Demo
.
Since one of the founders is a long time forum member (7 ½ Years) all LSF registered members get an extended FREE 30-Day trial for both Chat and Lead Tracking.
This has been another installment in the Local Search Forum promoted post series.