Administrator
Local Search Expert
LocalU Faculty
Joined

Aug 23, 2014
Messages

5,021
Solutions

41
Reaction score

2,649
I came across a very interesting case recently that I wanted to share. I was investigating a traffic drop for a lawyer specifically on their Google Business Profile. They are using UTM codes on the listing so I was looking in Search Console to see which keywords had the biggest drop. Search Console showed a massive decrease in clicks compared to last year and the drop matched up with the timing of the
Vicinity Algorithm Update
.
What was really confusing is that
all
their loss was on mobile. I was trying to wrap my head around why they would actually be up on desktop but lower on mobile if they experienced a ranking drop. I ruled out Google Ads (location extensions) being responsible for this and also confirmed that the UTM code wasn't stripped off the listing at any point (the graph never flatlines). I also noticed some stuff with their keyword patterns and drops that set off a lot of red flags.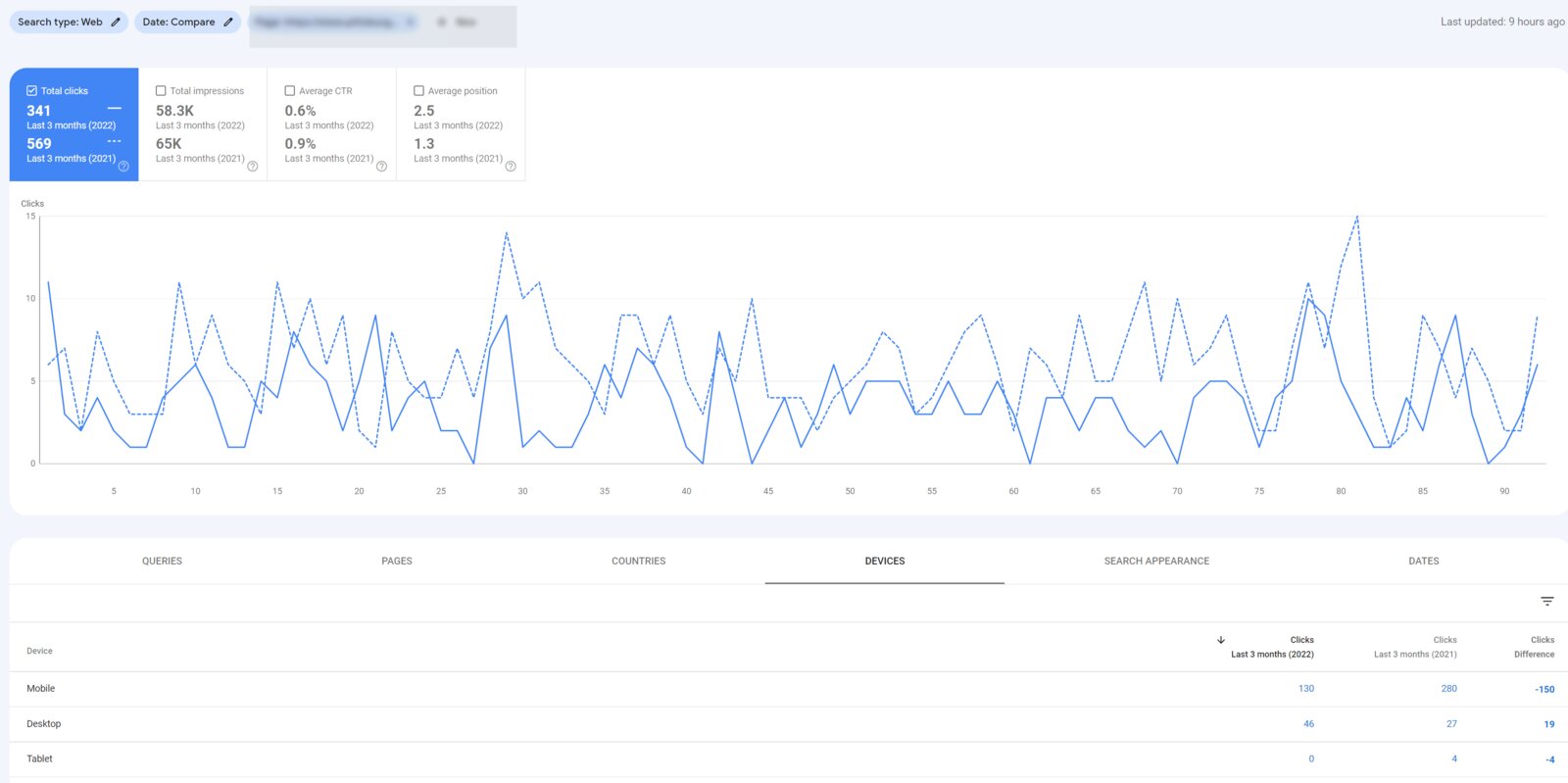 To better understand how Search Console records clicks from the 3-pack on mobile, I decided to conduct an experiment.
Test 1:
September 6, 2022 - I asked several colleagues and friends to do the following (all from different IP addresses in the USA and Canada: Go to your phone (MUST be a phone), search "Google Maps SEO companies near Uxbridge Ontario", click on Sterling Sky's name in the 3-pack, then click the website icon to go to our website from there.
The clicks show up in the Google Business Profile performance stats: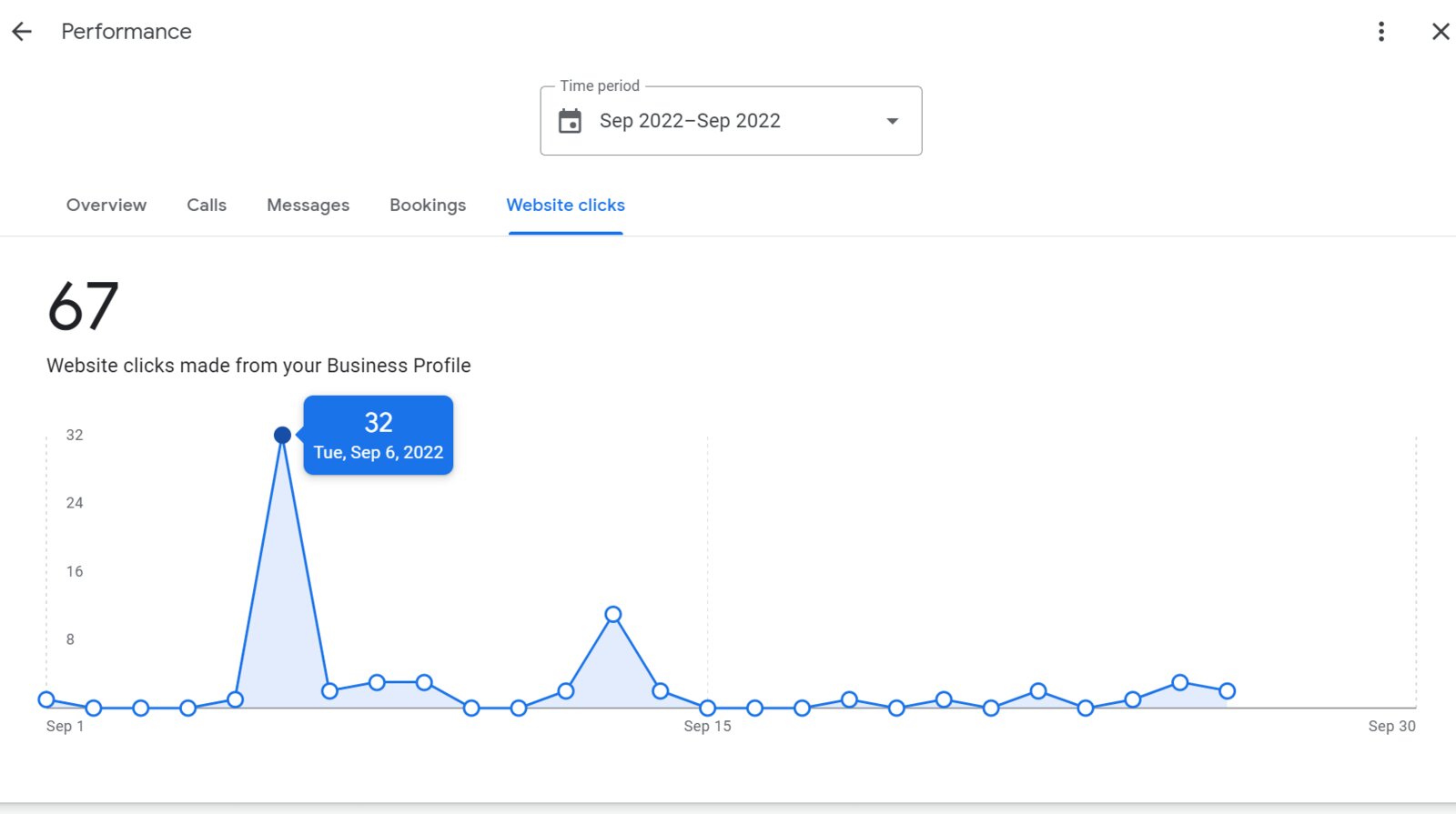 The traffic also showed up in Google Analytics:
What was interesting was the clicks didn't show up whatsoever in Search Console. The keyword also didn't show up with any impressions.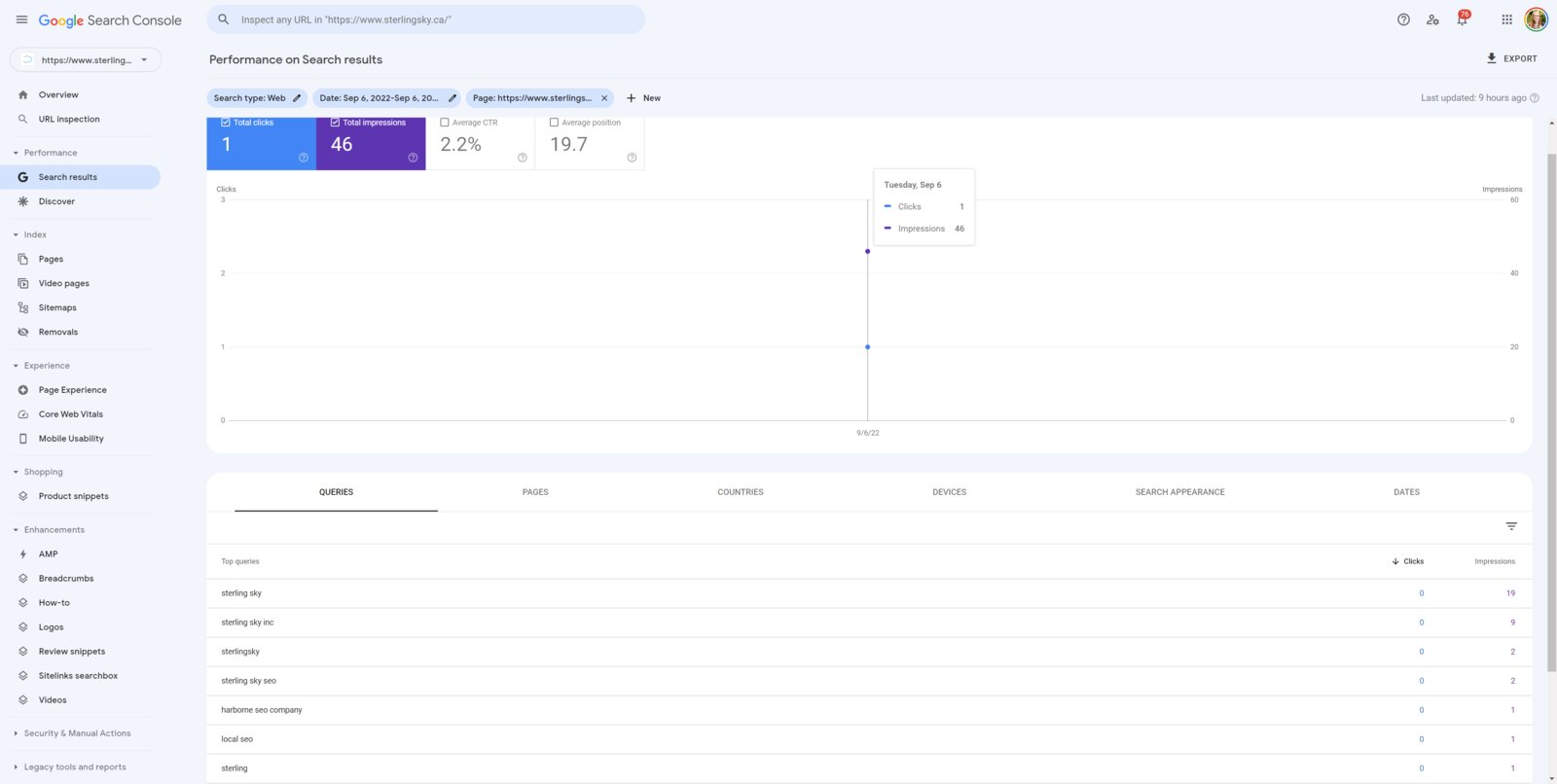 Test 2:
September 12, 2022 - I wondered if the UTM codes were somehow screwing up something in Search Console so I removed them from the listing and repeated the same experiment.
This one was harder to track since we get a ton of clicks on our website organically and I couldn't isolate what was the 3-pack. However, after combing through the 29 clicks on our homepage that day on mobile, 100% of them were accounted for under other keywords listed in Search Console. So these clicks were missing as well.
Test 3:
September 12, 2022 - I repeated the test on a different site and listing. My colleague, Yan Gilbert, let me experiment with his. I had people do the following: please go to your phone (MUST be phone), search "local seo newmarket ontario canada", click on Yan Gilbert's name in the 3-pack, then click the website icon to go to his website from there.
Just like the first 2 tests, none of these clicks were in Search Console
Test 4:
September 13, 2022 - This is where things get interesting. I decided to repeat the same test, but on desktop. I asked people,
Please go to your computer (MUST be a computer) search "local seo newmarket ontario canada", click on Yan Gilbert's name in the 3-pack, then click the website icon to go to his website from there. 13 people did this (all 13 are in Google Analytics) but Search Console logged all the impressions, yet only 2 of the clicks.
My theory is that 2 of the people misunderstood my request and clicked directly from the 3-pack instead of first clicking to the Local Finder.
Why is this Happening?
Based on what I saw here, it looks like a huge amount of traffic from the Google Business Profile from mobile is completely missing in Search Console, and some data from desktop. I believe one possible reason for this is that when you click on a listing in the 3-pack on mobile, you get a URL string that says
Google
/localservices/profile
whereas on a computer you get
Google
/search.
If this is correct, and Search Console is not actually tracking traffic from /localservices/ then Local SEOs are going to be looking at some seriously innacurate data if they're relying on Search Console instead of Google Business Profile Performance (formerly Insights) data.
So far no one I've asked knew this was happening. Has anyone else looked into this? Did it make your brain explode like mine?