Moderator
Local Search Expert
Joined

Jun 28, 2012
Messages

13,313
Reaction score

4,148
Want to brush up on the latest in Local Search
and laugh all the way to the bank?
Greg Gifford did another super entertaining presentation! This one includes 121 comedy movie references, with at least one movie for every year in the last 50 years.
<a href="http://www.autorevo.com/blog/dallas-digital-summit-slides/">Local SEO Presentation | AutoRevo</a>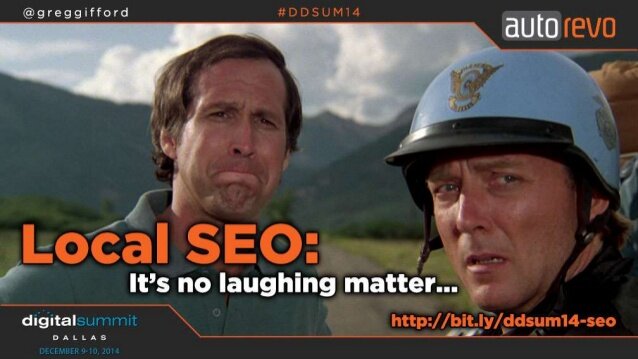 ​
Click above to watch the video. This one is not just Greg's slide deck, which is what I usually share and even those are entertaining. But this one is a video with his voice explaining all the nuances of local search.
AND it includes all the latest changes, even all the new guidelines.
A+++ and worth a watch!
What was your fav slide???
And if you liked that one, here are more crazy fun presos from Greg:
<a href="http://localsearchforum.catalystemarketing.com/local-search/23558-how-win-local-search-race-blow-past.html">How to Win the Local Search Race & Blow Past Your Competitors</a>
<a href="http://localsearchforum.catalystemarketing.com/local-search/11708-what-hollywood-can-teach-you-about-crazy.html">What Hollywood can Teach you about the CRAZY World of Local Search</a>
<a href="http://localsearchforum.catalystemarketing.com/local-search/6365-how-do-local-search-truffle-shuffle-greg.html">How to do the Local Search Truffle Shuffle - Greg Gifford</a>
<meta property="og:type" content="article"><meta property="og:title" content=""><meta property="og:description" content="">
<meta property="og:image" content="">