Joined

Nov 8, 2019
Messages

19
Solutions

1
Reaction score

18
(I did contact Google support this morning for this issue and am waiting to hear back, but the client is very upset so is wanting answers ASAP, I figured I would ask you all if you've seen this before.)
Our client recently noticed that their GMB profile is displaying a wrong number, but ONLY in mobile SERPs. This number does not exist in the backend/GMB dashboard, on any of their ads, nor is their evidence of suggested edits changing the phone number.
We have been able to duplicate this issue on iPhones and androids- I personally get the wrong number 864-571-5256 when searching "waldrop sc" on my phone using safari and chrome, but when I search on the Google Maps app it shows the correct number (864) 740-8997. On
desktop
the correct number displays. The client did contact support on their own first and got a generic response telling him how to edit the phone number in the GMB dashboard which isn't the problem.
Waldrop Plumbing - Heating - Air​
331 S Hammett Rd, Greer, SC 29651
18647408997
Search on iPhone for "Waldrop SC" on Chrome app showing a random phone number 864-571-5256: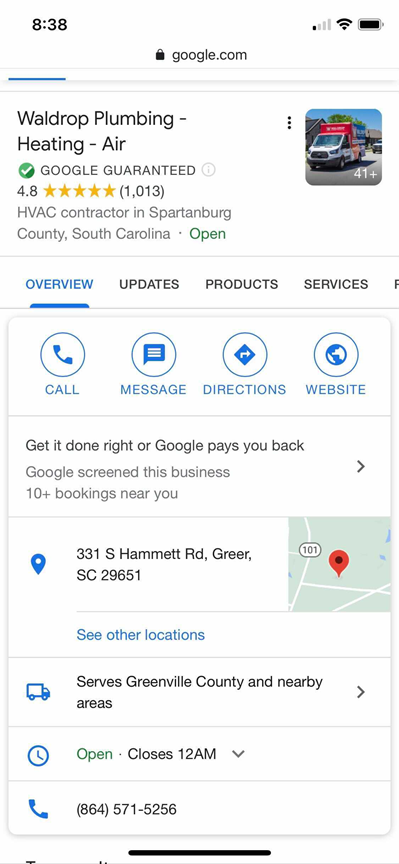 Search result on Google Maps app showing correct phone number (864) 740-8997: