Hello,
I am looking for assistance with a puzzle I haven't managed to resolve for six months already.
In brief - a hotel changed its brand from "Hilton Singapore" to "voco Orchard Singapore" on Jan 1, 2022. There are two Google Maps entities - one of the previous brand and another of the new brand:
Hilton Singapore · 581 Orchard Rd, Singapore 238883
- previous brand
voco Orchard Singapore, an IHG Hotel · 581 Orchard Rd, Singapore 238883
- new brand
However, there's only 1 Wikipedia article due to the platform's policy to simply renew the information -
Voco Orchard Singapore - Wikipedia
.
And that's why the old brand KG is linked with the Wikipedia article, hence displaying the description which is no longer related to the Hilton property.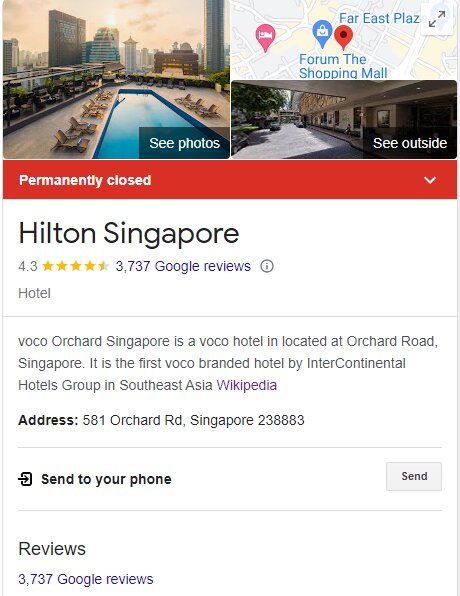 So far I have tried all means of escalations - GBP support, frequent feedback from SERP and Maps.
I will be grateful if you could suggest a working way to break the connection between the old Google Maps entity and the only Wikipedia article.
Thank you,
Nevena