Moderator
Local Search Expert
Joined

Jun 28, 2012
Messages

13,313
Reaction score

4,148
​
I reported last week about another new style pack: <a href="http://www.localsearchforum.com/google-local-important/35620-google-testing-new-local-brand-3-packs-good-news-bad-news.html">Google Testing New Local Brand 3 Packs</a>
That test was brand packs: if you searched for Starbucks by name, for example.
<font color="#B22222">3 pack style differences</font>:</b> <b><font color="#B22222">1)</font></b> Labeled A,B,C <b><font color="#B22222"> 2)</font></b> Full address<b><font color="#B22222"> 3) NO REVIEWS - NO STARs!</font>
Well dang! That test appears to be rolling out to generic keyword searches now too.
NO reviews - NO star ratings
</b>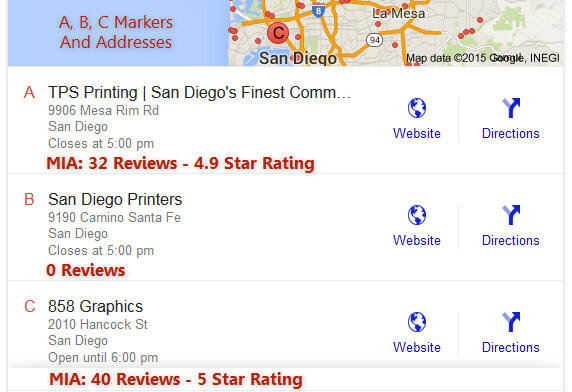 ​
Possibly it's just a bug or oversight, but based on the fact those brand packs were exactly like this, however, I just have a feeling...
If reviews and those rating stars go away, it's going to really hurt some businesses. AND I'm sure some would be willing to pay to get them to show again if they've worked hard for them and the reviews are one of their biggest draws for new customers/patients.
What better way to get small businesses to pay for either Adwords or some new paid pack listing, than to take their precious reviews away? (Wearing tin foil hat? Getting paranoid and shell shocked due to too many changes?)
Discovered this new change/wrinkle at the Google forum and this consultant says his client is not too happy about it: <a href="https://productforums.google.com/forum/#!topic/business/wZ_uzAHsLjU">What happened to the Stars?</a>
Priya Chandra, who recently joined the team as a Google Top Contributor and is also a TC here at the forum gave that user some GREAT advice! Priya said:
This test (and many others) is happening across the board and to lots of industries. We are not Google employees here and have no power to ask Google to stop running their business.

You can, if you wish, submit feedback on these results and your concerns via the Feedback link at the very bottom of the search results page.
So just one more small step in the march toward Local pay-to-play???
In other Google testing news
...
In case you missed Kyle's post from last night, they are already testing paid "Nearby Businesses" ads for generic local queries like "Dentist" on mobile.
AND those listings look just like the new regular desktop 3 pack, BUT they have a click to call button AND they show review and stars. (See, if you pay-to-play, then we'll show your phone # and reviews! ;-)
Here is the post with screenshots of the new paid 3 pack ads for nearby businesses which sit at the top of the page on mobile: <a href="http://www.localsearchforum.com/google-local/35942-google-testing-100%25-pay-play-nearby-local-business-ads-top-serps.html">Google Testing 100% Pay-To-Play Nearby Local Business Ads At Top of SERPs</a>
Have you guys ever seen this big of a flurry of changes all in the same period of time?

Almost seems like they are throwing a bunch of tests at the wall to see what sticks?

OR these are a bunch of small changes, to shake things up and distract us before the big change happens? (Full pay-to-play)
<meta property="og:type" content="article"><meta property="og:title" content=""><meta property="og:description" content="">
<meta property="og:image" content="">