Moderator
Local Search Expert
Joined

Jun 28, 2012
Messages

13,313
Reaction score

4,148
Here are 4 smoking hot ways to use
Meetup
for laser targeted local marketing.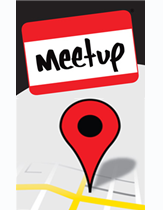 ​
1) Start a Group
(Obvious)
If you are a speaker or organizer type person, leading a group is a great way to establish local authority status and develop great contacts and potential new customers. Plus your group can have lots of local content on it's profile page as well as some do follow links.
PLUS sometimes press and other sites will link to you. "Dr Paula Smith from
supersmiles.com
started a new Meetup Group for working moms that want to network and lead a healthy family lifestyle."
Here is an example of an Internet Marketing group for local small businesses, that some smart SEO started that has 427 local business owner members:
Raleigh Internet Marketing Meetup for Business Owners
2) Go to Groups
(Obvious)
If you want to use good old fashioned face to face networking to build your local search agency or local small business, find the type of Meetups your ideal customers would go to.
3) CONTENT for Local Pages
(Out-of-the-Box)
Find local groups related to, or compatible with, your client's target demographic.
Examples: Dentist - Moms Groups. Sporting Goods Store - Outdoor and sports groups.
Post a list of groups OR post regular updates about new Meetups. And of course include lots of good location data for those Meetups.
4) Sponsor Groups
(Out-of-the-Box)
This is ALMOST FREE targeted LOCAL advertising!
A) Get DO-FOLLOW backlinks
(Meetup is PR 7)

B) Get targeted LOCAL citations

C) Last but not least, get targeted exposure to potential new customers!
All you need to do is come up with a discount offer and pay $5 a month per group you sponsor. Here is info: <a href="http://help.meetup.com/customer/portal/articles/615408-how-to-sponsor-meetups">Meetup | How to Sponsor Meetups</a> <a href="http://www.meetup.com/perks/">Offer Perks to local Meetup Groups - Meetup</a>
Other stuff
- Review groups, join discussions, post polls and pics. In otherwords, just get active online with some of these groups that target your demographic. Online networking...
SEEK & FIND - You can search via city and keywords. But additionally if you find a relevant group, you'll also see a list of related groups toward bottom of left side bar.
Here is a random professional networking group I found.
CERTUS
. Note the do-follow links in the description. Note the sponsors and perks in left column, then lower down are related groups.
Obviously many of these strategies can be used for other local group and event sites.
EventBrite and others are high PR and many have do follow links.
MORE EVENT MARKETING RESOURCES
Here's a post Colan started where we touch on event marketing: <a href="http://localsearchforum.catalystemarketing.com/organic-seo/1665-out-box-local-link-building.html">Out-of -the-Box Local Link Building</a>
Here is a great post from MOZ:
The Complete Guide to Link Building with Local Events - Moz

What do you think? Have you used event marketing or any ideas like those above?

Are there any that lit a spark or inspired you to think outside the box?