The Difference in Value of Feedback: Surveys and Online Reviews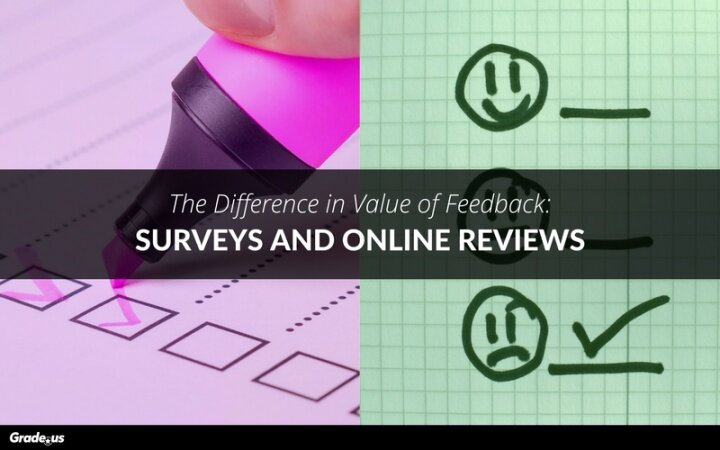 Surveys and online reviews...

Which one will give you the data and feedback you need to build a better business? Which one will attract more of the ideal customers you actually want?

The unsatisfying answer is both.



Surveys and reviews depend on customer engagement. They both offer qualitative and quantitative feedback. Doesn't this mean they're interchangeable then? That you can use one or the other to achieve the results you want?




Used at the wrong time, surveys and online reviews are damaging


Surveys and online reviews are an essential part of your marketing toolbox. But that doesn't mean it's a good idea to use these tools interchangeably.



How should these tools be used, and when?


Use reviews if you want to...


Create social proof


Increase customer trust

Position your business as a top/niche performer

Gauge customer experience (positive/negative)

Use surveys if you want to...


Collect both qualitative and quantitative data


Keep feedback and findings private

Get specific answers to self-directed questions

Control the overall flow of the customer/provider relationship

This is all pretty obvious though, right?

Here's where things get dicey.

Treat customer reviews like a quantitative survey tool and you'll end up using the wrong data to make terrible decisions. What if you use surveys instead of reviews? You know, to avoid the fallout from a negative review.

Do that and you miss out on building trust and loyalty with your customers.



This still doesn't tell us much about when to pursue reviews and surveys. To answer that question we need to understand the benefits of reviews and surveys.



Read the rest of Andrew's post here. He goes on to explain the "hidden" benefits of surveys and online reviews, and how they differ.

Do you agree with Andrew? Which feedback collection strategy works for your business or clients?