As many know, Google has been testing their new ad product, Home Service Ads, in the SF Bay area. Last June Google announced at SMX that the future "3 Pack" would include one "sponsored" listing.
Make that all three! We manage the local GMB listing plus AdWords account for a locksmith in Oceanside, CA. Google reached out to him in August to join the program that will be expanded to the greater San Diego market (and others across the US) in November. The program is powered at this point by AdWords Express only.
I'm not a big fan of AdWords Express and was curious what my Agency Development Manager at Google thought about this program. He wasn't intimately familiar with the HSA program but contacted the folks in Mountain View who are involved with it. I was invited to call the HSA account manager directly which I did. I asked her:
1) Where on the SERPs will ads appear?
Top of Page One and she directed me to search Google for "Plumber in San Francisco". The result are three "sponsored" listings. No organic.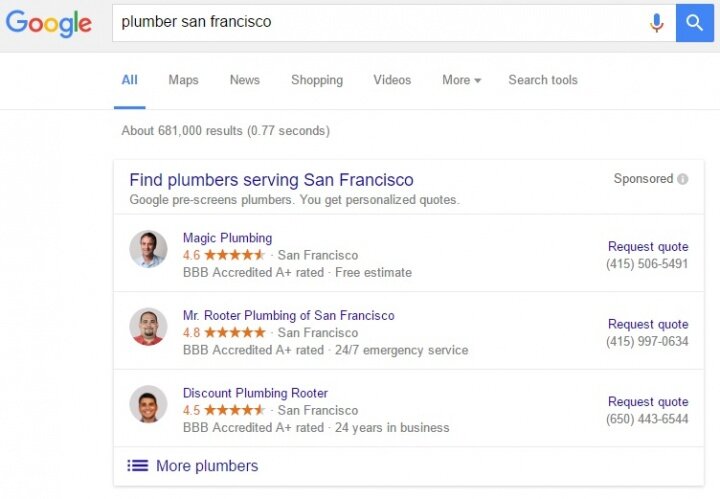 2) My client claims that Google told him that his GMB listing was going away and that he would have no local visibility unless he signed on with HSA. Is he correct in this?
Basically yes as the HSA program rolls out to more metro areas.
3) Obviously there are more than three plumbers in San Francisco. Will the HSA listings be rotated? If so, on what basis?
Yes, based upon the business "ratings", or reviews on Google.
4) Are there any plans to to tie the HSA program to conventional AdWords?
Yes, eventually. But for now this is driven by AdWords EXPRESS. Any conventional AdWords campaigns targeting the same or similar keywords, physical area, etc. will need to be disabled.
5) Given the lack of keyword control with Express, will the CPC of these broad matched keywords be the same as conventional AdWords?
No. Advertiser is not charged per click but per phone call received that last > 30 seconds, thus a forwarding number will be provided. Similar to AdWords' "Call Only Campaign" except ads are visible on desktop as well as mobile.
I'm sure I am not alone in my significant concern with the Home Service Ad program. The death of the local pack for most, or all, home service business categories is upon us.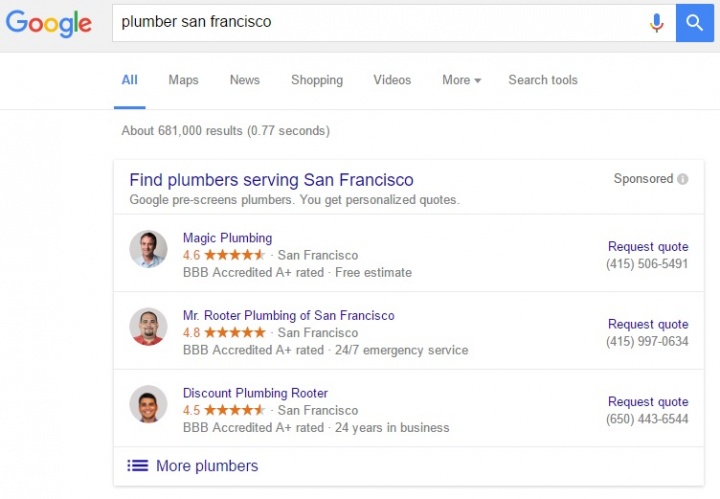 Last edited by a moderator: