What Is Local Content and Why Is It Important To Small Businesses?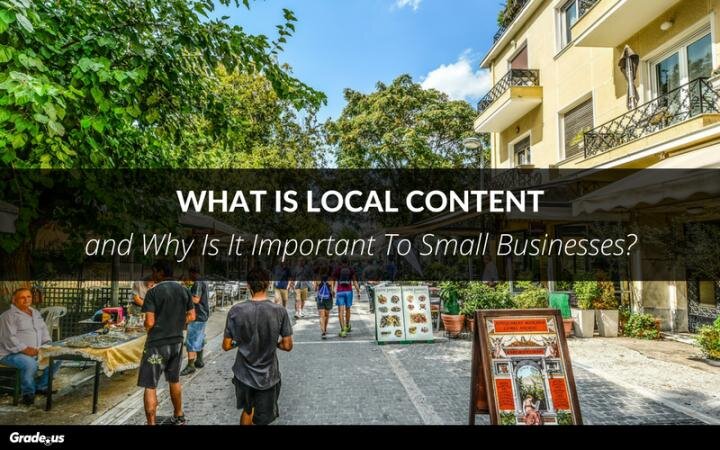 Local content is a headache.

It's a difficult topic for many businesses. Small businesses aren't entirely sure what it is. They don't know why they need it, what they should be doing with it or how to create it.

Many small businesses feel they're drowning under the list of things they're "supposed" to do.



It's a miserable ordeal but it shouldn't be.




Because local content is a wonderful opportunity in disguise


Here's the problem.

Small business owners are confused about local content. Is it different somehow from regular 'ole content? What makes local content so special? The distinction is actually a bit confusing. Definitions are important, especially if we're going to learn about local content.

So, what is it?

Here's how Search Engine Watch defines local content.

"Local content... can help search engines contextualize your website's niche to its local service."

In layman's terms, your local content tells people and search engines what your business, product or service is all about. Which is what most small businesses are already doing, right?

Actually, No.

That's not what most small businesses are doing. That's not even what most large businesses are doing. Okay, what are they doing then? I mean they're creating content, they're sharing and syndicating it on social media. Isn't that what you're supposed to do?

Absolutely. But that's not what's happening.

The local content most small businesses create is essentially noise. It's actually worse than noise because it creates confusion, stress and anxiety.

Greg Gifford shared an example:

"Our Dallas Toyota dealership Toyota of Dallas is your source for the best Toyotas if you're looking for a new Toyota or used Toyota in Dallas, Texas or the area around Dallas. We're conveniently located to also serve Richardson, Garland, Plano, Addison, Allen, Frisco, McKinney, The Colony, Euless, Bedford, and more in the Dallas area. Our Dallas Toyota dealership has great deals on Toyotas near Dallas, so come see us at Toyota of Dallas, right off the highway in Downtown Dallas."

See what I mean?

Noise.

This kind of thing happens all the time. I mean, couldn't they convey the same idea in a single sentence? "Toyota of Dallas has all 19+ Toyota models in stock"

Does this mean everything businesses share is simply noise? Not at all. There are quite a few small businesses sharing helpful, meaningful content. But these businesses are the exception, not the rule. Am I saying every single piece of content you share will be meaningful to every customer?

Nope.

Because meaning, in this case, is subjective and heavily dependent on context. A customer who's in the market for a car or truck will find a discount, incentive or reward meaningful. Customers who just purchased a car? Not so much.



You can't control context for your customers.



Read the rest of Andrew's post here. He goes on to use a great example of Chick-fil-A creating and using local content.