LSF friends,
Hoping you can help settle a debate that's been happening within the analytics team at my office about trackable phone numbers.
TLDR?
-->
Implement call tracking on GMB despite obvious NAP/Citation conflicts: Yay or Nay?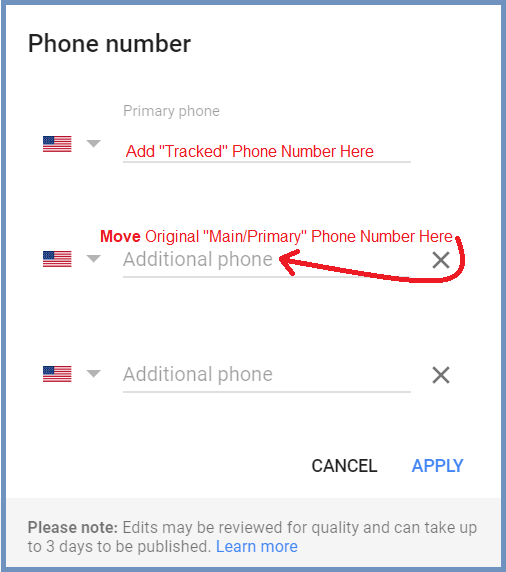 While everyone agrees we would love to invest our 400+ clients into Twilio numbers or something similar, I am incredibly nervous it will mess with their ranking signals for both citations and overall SEO. Other folks say to get over it and implement since we'll never have a truly accurate count of ROI without it.
By placing a tracked phone number on their GMB listing only, won't that screw everything else up big-time and lead to an overall decrease in ranking? What have you done to implement tracking but avoid the NAP conflict?
I've read theory on adding the "actual" phone number as a second phone number to GMB, which will allow for NAP to remain in-tact. I've read others saying the 2nd number is not going to help to "save" any ranking signals at all.
Has anyone tried this with proven and repeat success?
I am doubtful moving the main number to second position and replacing top number with tracked phone is going to work.
I know AdWords offers ways around this, but our concern is mainly for
GMB-related optimization
, and we want a permanent solution that does not involve updating the citations on every single website and directory we come across. While a platform like MOZ Local would make this easier, there's simply no way it can grab literally every listing out there. Plus it defeats the purpose of call tracking in the first place.
Success/Horror stories? Ideas?
Postscript: We've read just about every article out there on this and we've never had a definitive answer provided in favor of call tracking. But if that's true, what's a marketer to do?
Thanks!
Epic Web
P.S.S. We would do this for most clients and absorb all costs because it's not the client who cares about call tracking, it's us, the agency. By tracking all GMB calls, we can truly prove an accurate ROI on our GMB efforts.