Local Search Expert
LocalU Faculty
Joined

Apr 6, 2016
Messages

237
Reaction score

281
Hi, okay, no video this time as I ran this test while distracted by the Google Chrome mobile view and exact location I posted this week and last week. But I thought it was worth a share, especially now Local Falcon (LF) is getting some well deserved attention.
The scenario, I ran LF for an attorney I have in Phoenix on a popular search term and got the following results.
Before
5x5 grid set at 1km (0.621 miles)
Dam it, I thought, who the hell is knocking me down to 4th place in a location that's just a few blocks away.
So I clicked on the yellow 4 marker (which expands in case you didn't know) to display who was ranking in positions 1, 2 and 3 followed by my client at 4.
The position 1 and 2 firms were the usual suspects, however the position 3 listing was an unclaimed practitioner listing (let's call her Jane), Jane's category was set to Attorney, no reviews, the web address linked to Jane's profile on the main company website, it was her profile page that mentioned the practice area I was checking my ranking against. So what to do? After looking closer at the practitioner listing, Google maps had Jane at completely the wrong location, the address was correct BUT her location pin marker was way off, by about 3 miles (4.8 km)!
Which meant Jane was showing up in MY results even though her actual firm was way across town, certainly more than the 1km grid I was testing.
So what to do?
As a Local Google Guide I like to fix listings, edit spam, etc (#stopcraponthemap) , so as a local guide I fixed the marker to the correct location on Google maps, that's all. Within a few minutes the update had gone live, however it did take about 48hrs for Google maps to stop showing Jane's practitioner listing in the wrong location, as soon as it did, I ran the test again to get the following result.
After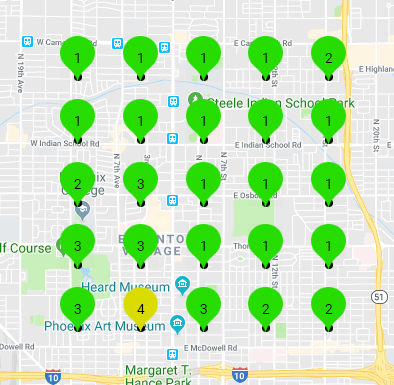 5x5 grid set at 1km (0.621 miles)
Voilà! Jane had disappeared and a position 3 was claimed.
Now all I have to do is work on the new position 4 that has popped up!
So thank you Local Falcon! I hope this might help others get into the 3 pack by just a few simple steps and a little investigation work.
Last edited: