How to Encourage Customers to Use Keywords in their Online Reviews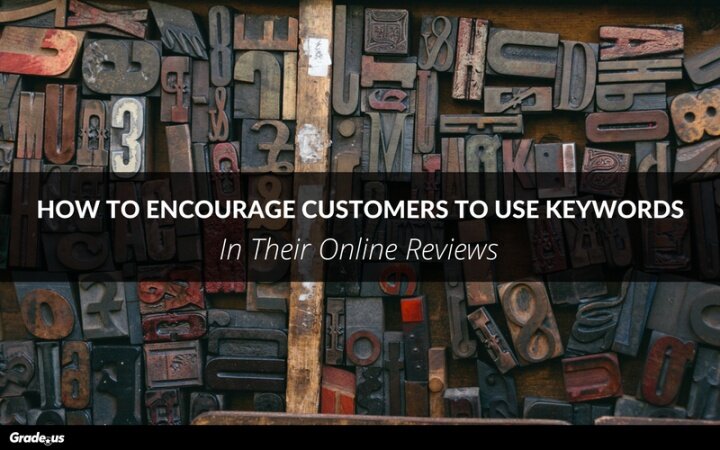 That?s right, we?re going to be discussing keywords.

There are probably a few of you reading this who just rolled your eyes and said ?Keywords? What is this, 2008??

It?s true that keywords may not be the sexiest marketing tactic to discuss lately. Everyone?s focus seems to be on social media and how to optimize that.

But when you?ve got access to an effective marketing tool, you make the most of it.

And the good news is keywords are still massively relevant, especially if you?re looking to maximize the impact of your online reviews.

Here?s what we mean.

Let?s say that you get 5 happy customers to leave you reviews. You?re off to a good start, but there?s definitely a way you could?ve turned this into a major victory for your business.

Instead of just having 5 positive reviews, if each of those reviews used a keyword that consumers in your industry, that would end up making an enormous difference.

Why? Because of the way local SEO works.

Consider for a moment the impact that online reviews have on your SERPs on sites like Google and Bing.

MOZ?s Local Search Ranking Factors Survey actually found that online reviews seem to make u for 13% of the way that Google ranks search results.



The message is clear. If you want Google (and search engines like it) to acknowledge your business and connect you with more consumers, you?d better have a healthy, positive online review presence.

If you?ve ever been searching online for a local business, you?ve probably noticed that your description of your needs leads to a few review sites pop up.

These sites showcase reviews that match your description, leading consumers like you to a specific listing.



Doing a quick Google search for something like ?hotels in la with jacuzzi? gives us these results.



As you can see, Google clearly makes online reviews a priority, with Vacations Made Easy?s page ranking higher than Yelp here because of the online review that Google picked up on.

With a strong enough online review presence, there?s no reason you can?t beat your competitors when it comes to targeted local SEO.

Of course, that still begs the question: what makes keywords so important here?

The reality of SERPs is that they rely on more than just who?s got the most 5-star reviews.

Results on these pages need to be just as appropriate as they are reliable. If everyone in your online reviews has cited the great wifi your hotel has, and a consumer searches for ?hotels in LA with great wifi?, then you?re likely the perfect fit for their needs.

That?s what search engines like to see, and that?s what will put you on the path to the first page of Google.

So clearly, your position on these local review sites is going to have an effect on how highly you rank on these SERPs.



The question then becomes: ?what can I do to ensure that my business ranks well enough on these local review sites to show up on Google when consumers ask about a business that fits our description??




Read the rest of Brian's post here. He goes on to examine how this plays out on TripAdvisor.