Today's Blog Post:
Marketers: How to Help Your Clients With Customer Service. Seriously.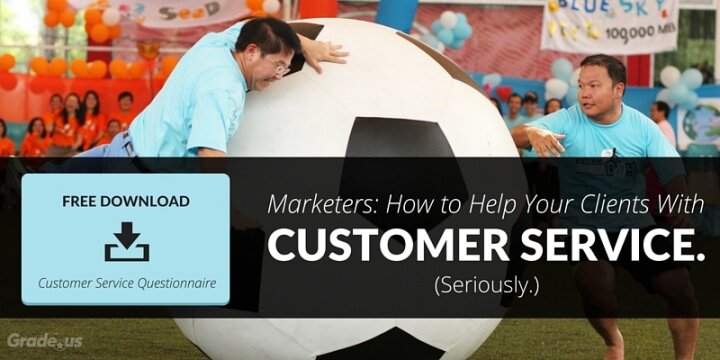 Every agency educates their clients about how they plan to execute their marketing strategies. An action plan typically proceeds from an audit of where the client currently stands. So if you offer SEO services, for example, you?ll audit your client?s performance in search and use what you learn to develop the strategy and tactics to improve that performance.

Well, if customer service is the new marketing, you?ll want to have a similar process in place to address it with your clients. In this post, I?ll attempt to help you start building the toolkit you need to do so.
Check out the post and download the free Customer Service Assessment Questionnaire for your clients!

Discussion Questions:

In your opinion, what role should a Local Marketing Agency/Consultant in their client's customer service?

Do you think it's worth the effort to help them?


If you found the blog post interesting, please share it with anyone that you think would find it valuable!
Don't hesitate to reach out if you ever want to discuss reputation management and if you have any requests for topics that we can cover on the Grade.us blog.
Please follow Grade.us on
Twitter
,
Facebook
and
LinkedIn
!
Thank you for taking the time to read our blog!
​