Hi Everyone,
Seeking some guidance here.
A few months ago this site was hacked by one of the Xanax/Valium spammers. About 2 dozen pharmaceutical landing pages were created on the site, and tons of backlinks were sent to those pages. They've since been removed and I disavowed the spammy backlinks back in February.
However, WMT is still processing the dead urls as 404 errors. See this screenshot here.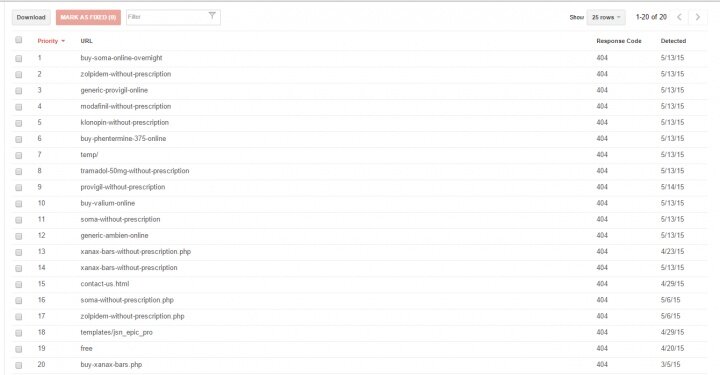 Question - what's the best way to deal with these internal 404 errors?
My first thought was to 301-redirect these urls to various internal pages of the site. The idea is to simply get rid of the 404 errors in WMT. But by sending these dead pages with spammy url's, I fear compromising the trust of those pages.
Then again, the fact that these pages are still 'indexed' by WMT, shows that Google is still 'considering' these URL's and is certainly not helping.
Thoughts?
Next site:
This site contains 28 404 errors, but they're not spammy. They're simply leftovers from the wordpress template in Latin (see screenshot here ).
Is it safe to simply 301 re-direct most of these to the homepage?
I've also considered 301 redirecting them externally to authority sites.
Thoughts?