Hi all,
I've done a little digging into some UK GMB pages in reference to tomorrows rollout.
Here's the map pack for the term 'plumbers rugby' from 17th July
- every listing has a direct connection to a Google Plus page: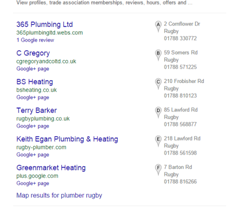 <small><small>(Apologies for image quality!)</small></small>
As of 27th July, this is the map pack:
Notice that:
The Google plus links for 'C Gregory' and 'Greenmarket Heating' have disappeared

The G+ pages for these are also completely gone

However they still appear in Google Maps & the map pack

The map pack link goes straight to the website

I can confirm these were initially unclaimed, unverified pages
What strikes me as odd is that '
J Myatt Heating & Plumbing
' still appears as normal despite it being an
unclaimed, unverified page
.
I've backed up the links here:
G+
,
Gmaps
. Interested in seeing what happens to this one in particular tomorrow.
My
theory...
...is that these changes took place on the other two listings as Google could associate a website URL with them and therefore could delete the G+ page whilst still keeping the businesses listed in the map pack.
Google does not associate a website URL with J Myatt and therefore cannot make the same changes.
Interested in hearing your thoughts,