How to Hire Support Employees that Guarantee Positive Online Reviews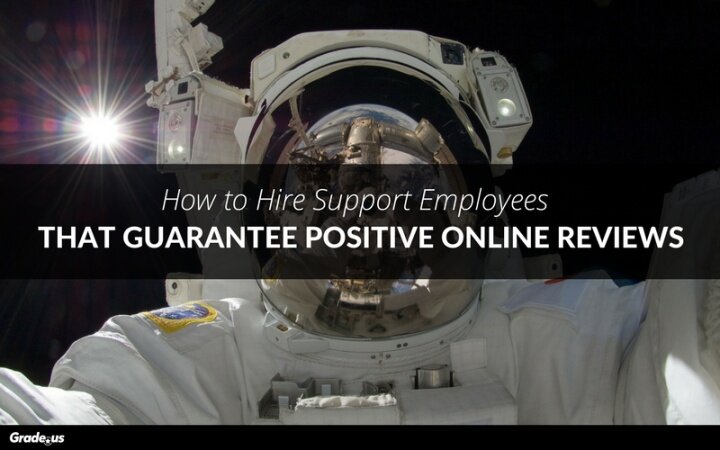 Customers can be tough.

Some, once they?ve paid for your product, become demanding and difficult. These customers pick at your support staff, slowly wearing them down.

When this happens, conflict is inevitable.

Your support staff is your first line of defense. They experience abuse on a regular basis. Customers approach from a neutral place of need and occasionally a negative place of unhappiness and dissatisfaction.



Can your support staff thrive in that environment or?





Will your support staff make things worse?

---

Most of us know it?s important to choose the right support staff. We hear legendary stories about amazing support teams and how they?re (rightfully) rewarded with amazing reviews and more business.

But we also hear the horror stories.



You have your own horror stories I?m sure.

We all know what a horrible customer service experience looks like. We?ve also seen the negative reviews that come with horrible service, and we know what it?s like to deal with terrible support staff.

How do we find and hire amazing support staff?

More specifically, how do we hire support employees who?ll virtually guarantee we receive positive online reviews?



It?s simple.



Step #1: Use OCEAN to find amazing support employees

The big five personality traits, listed under the acronym OCEAN, gives you the keys you need to find amazing support employees.


Openness to experience measures intellectual curiosity. Imagination, independence and variety are hallmarks of this personality type.
Conscientiousness describes a person who is dependable, ambitious and dutiful, showing self-discipline, and a preference for planning.
Extraversion refers to the energetic, passionate, and fun-loving life of the party. These employees are often seen as talkative and domineering connectors.
Agreeableness refers to the empathetic, compassionate and cooperative peacemakers among us. These employees tend to be helpful, trusting and pleasant.
Neuroticism describes the tendency for a person to experience unpleasant emotions (e.g. anger, fear, depression and anxiety) more easily than others around them.

So which personality traits are most important? Which one will lead you to the right support employee?
1. Agreeableness. Compassion and empathy are standard requirements for support employees. These employees have higher levels of compassion and politeness so they?re much easier to get along with.
2. Conscientiousness. Higher levels of conscientiousness means your support employees will do what it takes to take care of the customer and your business.
While the other factors are helpful, agreeableness and conscientiousness are most important. Here?s the thing about that though.
You need them both.
High on agreeableness, low on conscientiousness? These support employees are far more likely to become doormats, handing out too many concessions, discounts and incentives. They?re routinely abused and mistreated by customers.
High on conscientiousness, low on agreeableness? These support employees can be domineering, authoritative and brutal. They?re often inflexible, cold and matter-of-fact. This means they?re less likely to convey empathy and compassion to customers.

Check out the rest of Andrew's post here, to see the other 4 steps he lays out for finding and hiring those cream of the crop support employees.