Moderator
Local Search Expert
Joined

Jun 28, 2012
Messages

13,313
Reaction score

4,148
I think I just discovered another major update or likely an additional aspect of the update that people started talking about yesterday.
This one is related, but BIGGER in some ways.
GOOGLE+ LINKS ARE NOW MISSING on Most Listings!
Need to be sure you know about the Review Window update folks discovered yesterday
then the new bigger issue is in the screenshots below
.
Review Window update
- When you look at Google search and click reviews, instead of taking you the the G+ Local page Google displays them in an overlay window, so you stay right in Google search. Andrew Shotland
1st posted about it
and
we are discussing here
. And Alex did a post asking
Is Google Abandoning Local Listings?
NOTE: There is no way to get to the G+ Local page from this new review window.
If you have not yet, click Google reviews from Google search and see what happens.
How fast forward to a part of this update no one else has noticed yet OR maybe it's just rolling out.
​
Yes the Google+ Local links are missing on the majority of listings now too. So consumers can't even get to the page from search on most listings.
In the screenshot above only 1 of 7 in the pack has a link to the G+ L page.
In past you could have clicked reviews to get to the G+ L pages.
Now the clicking reviews brings the overlay window, with NO WAY to get to the G+ L page.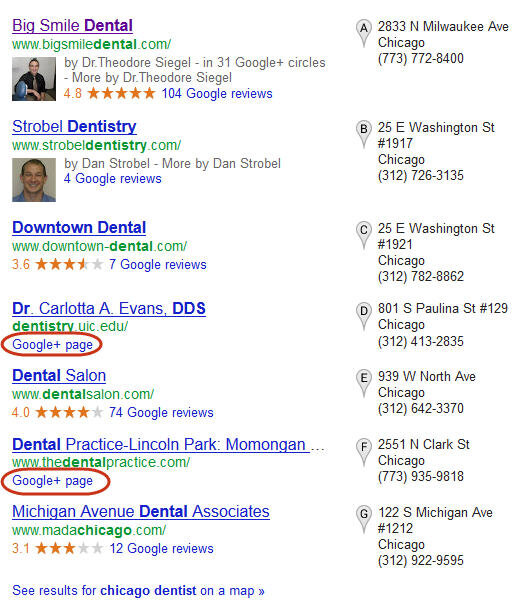 ​

To prove the G+ L link showing or not has nothing to do with # of reviews, check above. Even listings with over 100 reviews have no G+ link and no way to nav to G+ listing. Only 2 of the listings with no reviews have the G+ link.

I've checked a lot of listings and ranking order or # of review does not seem to play a part in whether listings have links to the G+ L page or not.

Even if you click photos in the knowledge panel on the right you can't get to the G+ L page.

"From the owner" takes you back to search NOT to the G+ L page. Closing the image overlay takes you back to search. Has it always worked this way? In past after you clicked images, from there you could get to the G+ page, right??? Now you can't.

So NO WAY to get to the G+ Local page on the majority of listings.

UPDATE 2:30 - It appears the only pages that show a G+ link are merged social pages.


See comments from Greg Gifford and my expanded observations starting post #2 below.

Mike posted about the review change yesterday and the fact the Google is no longer taking you to G+ L to view the reviews.

Google Looks to Keep Local Users at Google.com With Two Interface Updates
I commented:

People have been asking if Google is abandoning Google Local listings. I don't think it is, per se. I think the pages will still be out there. It's just that there will be no reason for consumers and potential customers to ever go there if she's serving up everything they need to see, right on the main search results pages (or on maps).

So it looks to me like local is still important. Managing and optimizing your data in the Places for business dashboard is still important. Getting reviews is still important.

What is changing is just the ways that Google is going to display that data to searchers.
Mike replied:


Google isn't abandoning local listings. If anything they are doubling down on them and making sure that the content is read and that folks give more reviews. They are just using their (very powerful) home page to do it.

This trend has been going on for quite a while with the rollout the local knowledge panel, the carousel, the debranding of local.

The increase of local data with the main data set is elevating local to the most visible of all google platforms.
So while I admit these missing G+ Links could possibly be a temporary glitch or something, it looks to me that this is part of an update rolling out that will surface more of the business data in Google search and make the G+ L pages either hard to find or possibly obsolete.

But again you still need to maintain your data in the dashboard, still need to add images, still need to get reviews and optimize what you can = because she'll show your data in Google main search results or the new maps info cards even if the G+ L pages are no longer front and center.
Still processing... not sure how I feel about this right now. Off to do more research and see if anyone else has noticed and is talking about this yet.
Just for grins one more screenshot below.