Moderator
Local Search Expert
Joined

Jun 28, 2012
Messages

13,313
Reaction score

4,148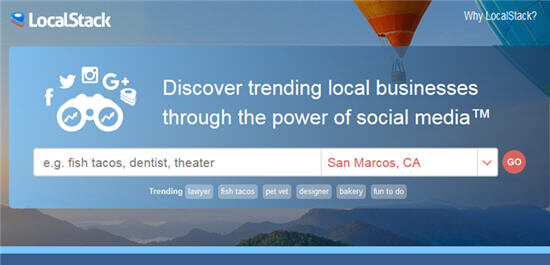 ​
Mojopages just rebranded and changed it's name and website to
"Local Stack"
(Score on the brand and domain name!)
A great discussion started at the Local Search Pros Community yesterday, so I wanted to be sure to share it here.
I'm sharing, not so much because Mojopages changed it's name, but for the discussion that follows about the best citations sources, with great comments from leading Pros like Phil Rozek and Myles Anderson from Bright Local.
Austin Lund kicked off the discussion.

Mojopages changed it's name and website to Local Stack? mojopages.com/ redirects to localstack.com.

It looks like it's still a directory but also combines tweets, shares and likes from Twitter, Facebook, Instagram, Google+ and LocalStack, and creates one social score.

I was thinking about keeping this new site as one of my top 50, but when I saw that DA of 1, I decided to toss it. What do you guys think? Is it worth keeping?
Myles Anderson

I don't know about that Phil. Yes MojoPages was a bit of a mess but this new site looks more considered. I'm sure the DA score will jump once the 301 redirect from Mojo passes through link authority to LocalStack.com

Bizarrely they haven't used schema tags on their NAP elements which I would expect to be a hygiene factor for any new/updating directory site.

But if the owners have taken the step to invest enough to relaunch Mojo under this new guise then I assume they'll keep investing & improving which is more than most directories are doing.
Phil Rozek

Hey +Austin Lund, here's the "core" list of 25 I tend to use for clients:

AngiesList.com
Apple Maps
Bing Places
Brownbook.net
CitySearch.com
CitySquares.com
Cylex-USA.com
ExpressUpdate.com
EZLocal.com
Facebook
Factual.com
FourSquare.com
Hotfrog.com
Kudzu.com
LocalEze.com
Manta.com
MerchantCircle.com
MyBusinessListingManager.com
ShowMeLocal.com
SuperPages.com
Yasabe.com
YellowBook.com
YellowBot.com
YellowPages.com
Yelp.com

Please note that there are a few one-horse directories on there (e.g. HotFrog). But those are there because:

(1) they're not a hassle to deal with

(2) they offer some unusual little benefit (like that Brownbook sometimes provides a "follow" link), and

(3) I'm a creature of habit and haven't completely taken a cleaver to my longer citations list of yore.

Of course, you'll also want to get listed on a few industry-specific sites that seem to matter in your industry. Avvo, or HealthGrades, or Houzz, or TripAdvisor, and so on.
Thanks so much for sharing Myles and Phil! Great list and insights Phil!
Check out what everyone else had to say here.
What do you think?

Anything to add??
<meta property="og:type" content="article"><meta property="og:title" content=""><meta property="og:description" content="">
<meta property="og:image" content="">